Hishine Group Limited is a high-tech enterprise established in 2005, we have two branches, one is Huaibei Ruite Tech Co.,Ltd and one is Hishine Optoelectronics Co., Ltd. We focus on high quality led industrial light, such as LED High Bay light, LED Stadium Light, LED Flood Light, LED Garden Light, LED High Mast Light, LED Batten Light, LED Shoebox Light, LED Street Light and other related products.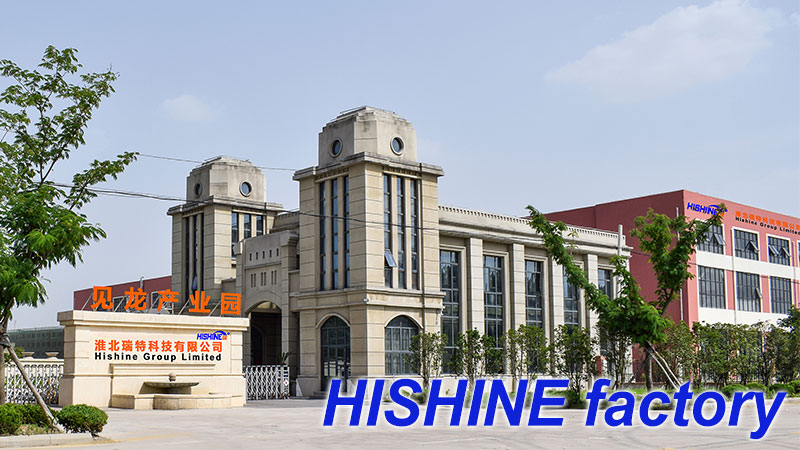 Why HISHIEN is a leading manufacturer and supplier?
SMT automatic machines and other testing equipment are installed in our 10,000-square-meter workshop, ensuring the production capability and quality. We are now the leading manufacturer and supplier of  LED High Bay lights, LED Floodlights,Led Street lights,LED Batten Lights,led Tunnel Lights and LED Gas Station Lights in the world. Your OEM and ODM projects are welcomed.
We look at HISHINE one-stop service
We understand from the research and development strength of HISHINE
R & D capabilities
1, R&D department with over 10 Engineers. We only make our own designed and private molding led lights.
2, We have more than 50 patents related to LED light-ing applications,
3, Have own Die-casting division, Sheet metal divi-sion, Dusting division, Painting division, and SMT divi-sion.
4. Full certificates. CE,ROHS,LM-79 and LM-80, SAA, VEET, FCC, UL, and DLC.
5, Have the full test machines for LED lamps, such as IES, salt spraying, water-proof and vibrating test.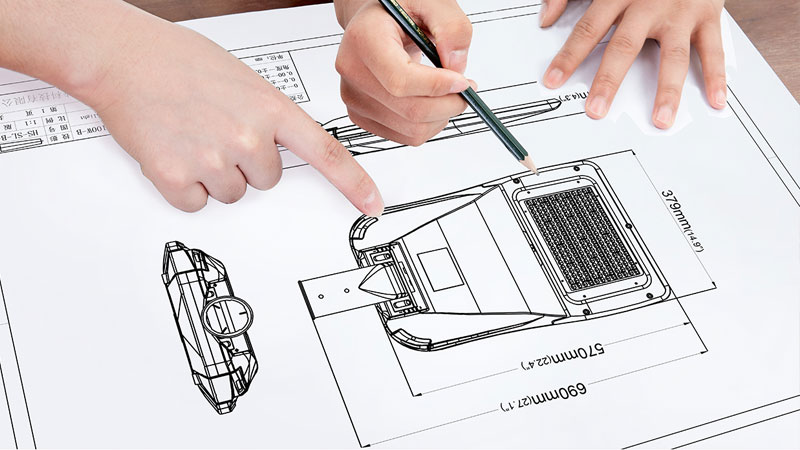 We have a complete internal testing facility in the R&D center to conduct safety testing,optoelectronic testing, and product reliability testing and life testing of all products before they are placed on the market.
Temperature and humidity programable chamber
The parameters and performance of the LED luminaire after the temperature change of high temperature, low temperature, damp heat or constant test.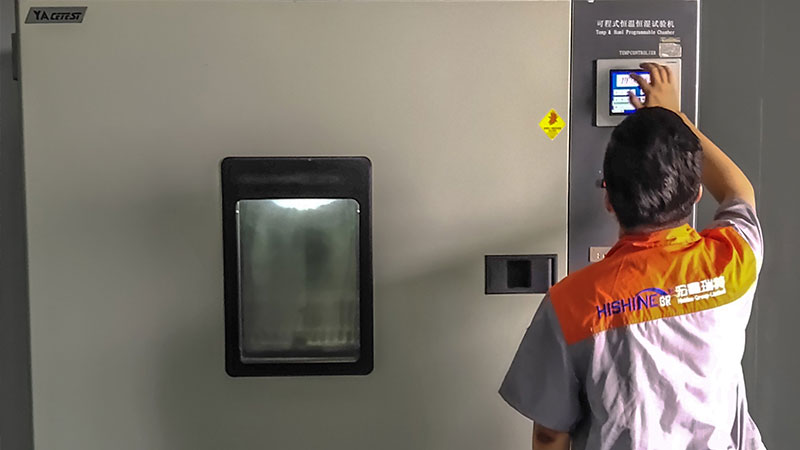 Water-proof test
Strictly use waterproof test equipment for waterproof testing to achieve a qualified product waterproof rating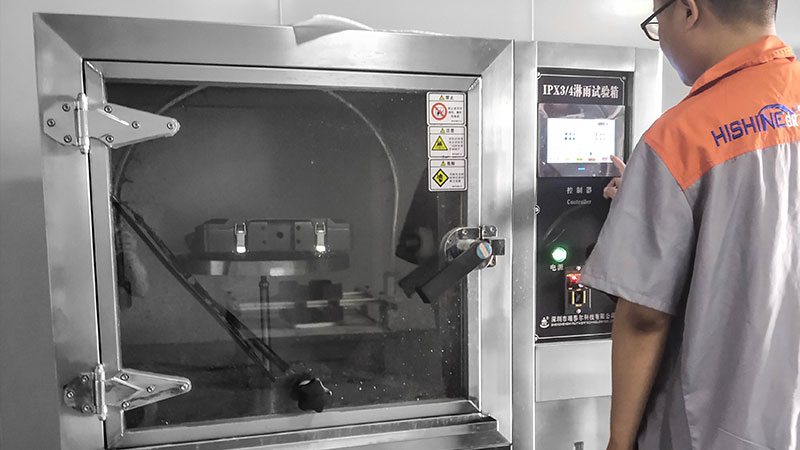 Precision Salt Spraying Tester
The salt spray test conforms to GB, CNS, ASTM, JIS, and ISO standards.The surface of various materials is tested for corrosion resistance after coating,plating, anodizing, anti-rust oil, etc.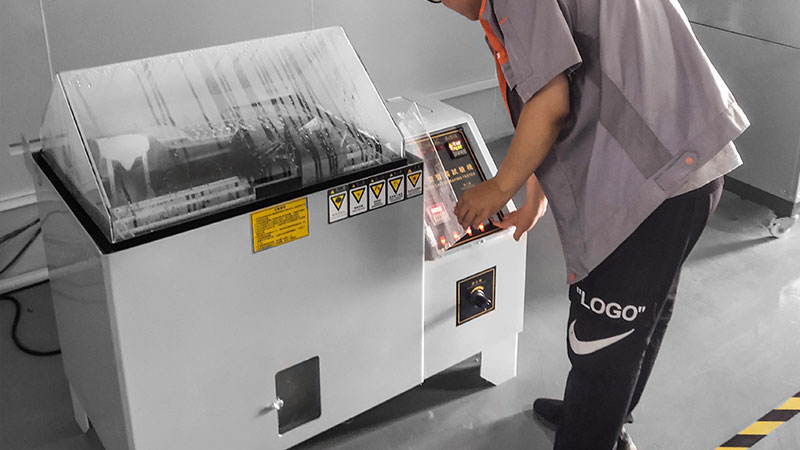 IES device
The horizontal distribution photometer realizes various measurement methods such as B-β, A-α and C-γ by rotating the lamp. Can work with double column or single column,with special spectrum analyzer for spatial chromaticity measurement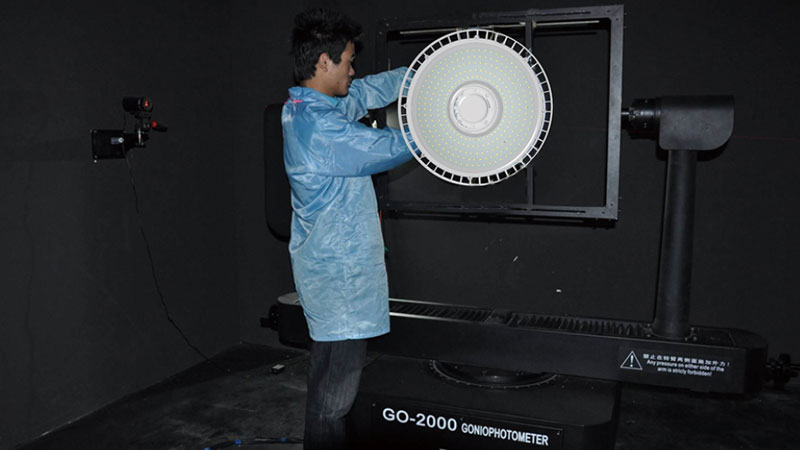 Simulated transport vibrator
It is used to simulate the bumpy environment of goods in the container during transportation,to test the structural strength of the product and the ability of the packaging to protect the product. Meet the standards: ASTM D99, ISTA 1A-2001, EN71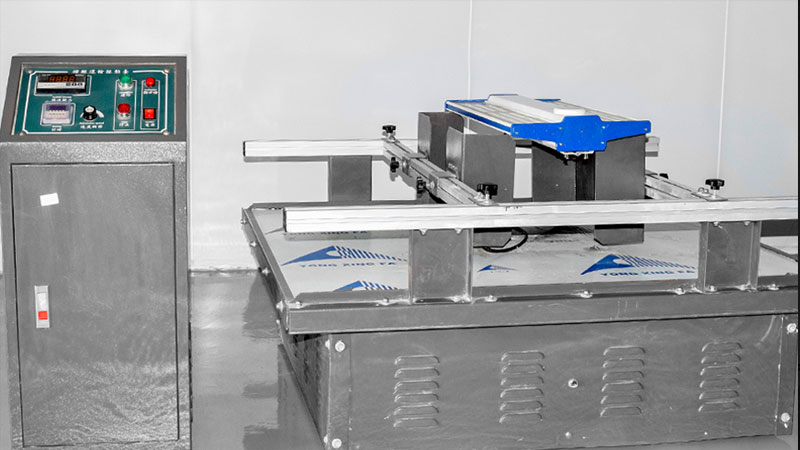 Drop Test
It is mainly used to assess the degree of impact of the package on the drop impact during the actual transportation and loading and unloading process,and to assess the impact strength and packaging design rationality of the package during handling.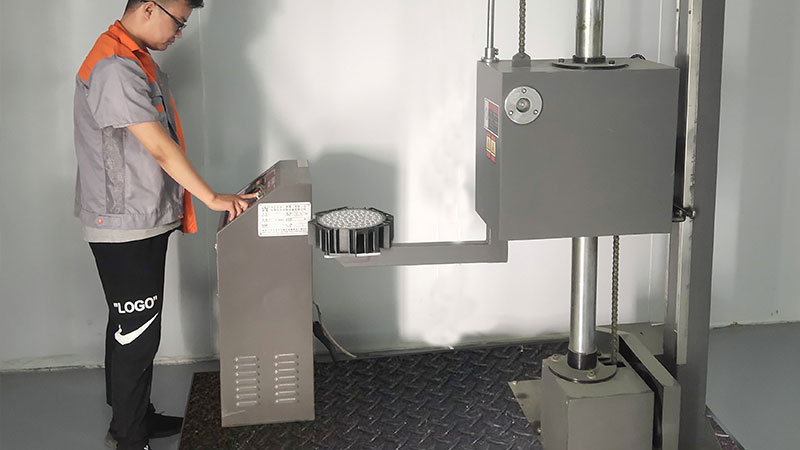 HISHINE strictly requires that each test pass to be officially put into production before each product is put on the market.
HISHINE production capacity
Hishine has state-of-the art manufacturing equipment to tackle any project. From die-casting to powder painting to CNC machining,we are a vertically integrated manufacturer allowing rapid production and new product development for our customers.We use the highest quality components along with trained professionals to produce the best products in our facility.
Laser cutting machine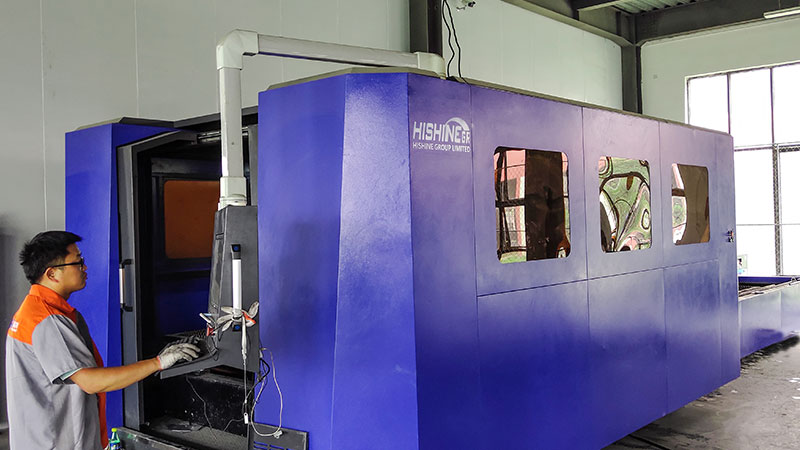 Bending machine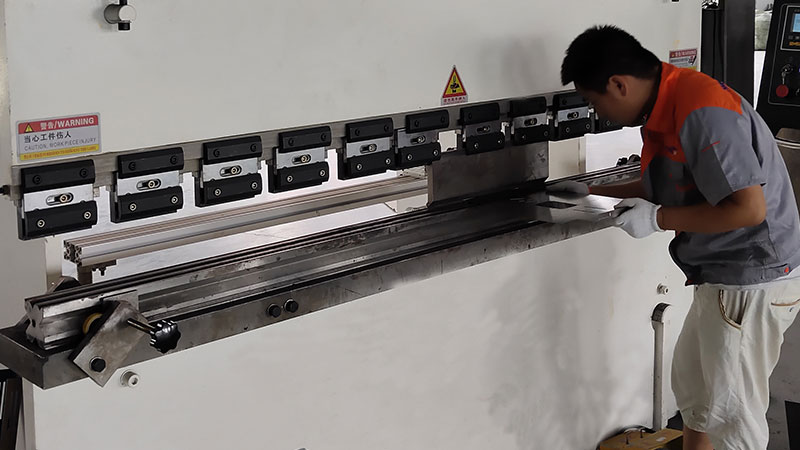 New aluminum die-casting workshop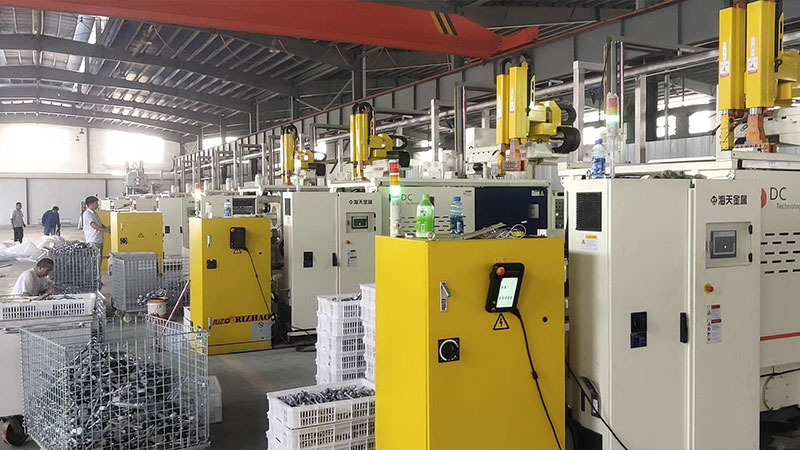 CNC machine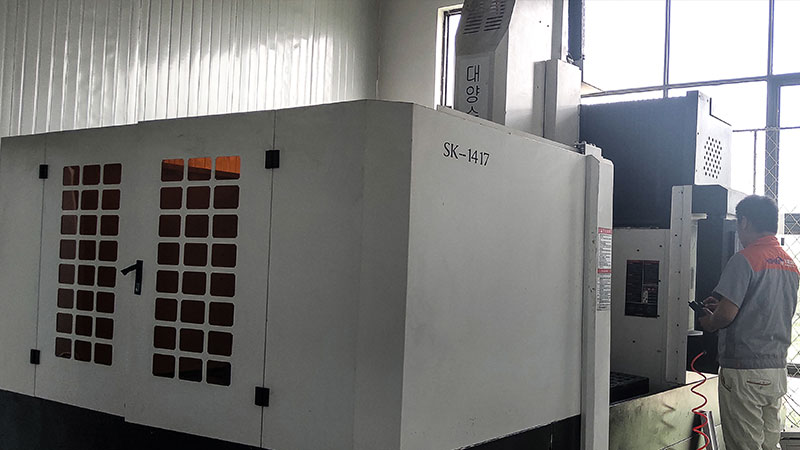 Sheet metal forming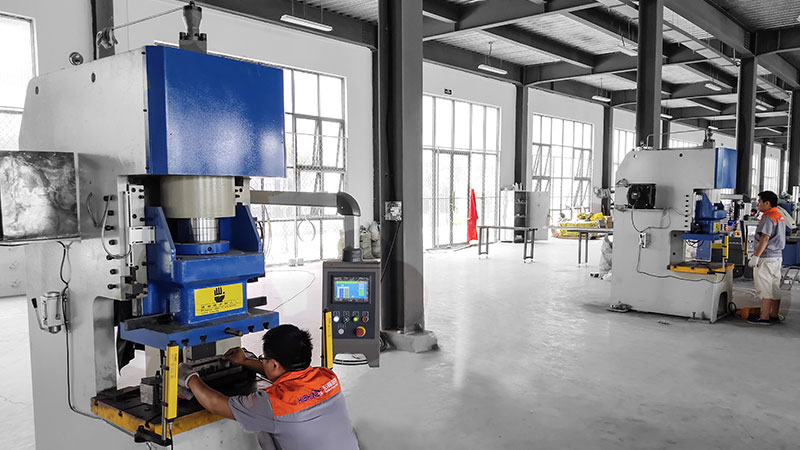 CNC drilling equipment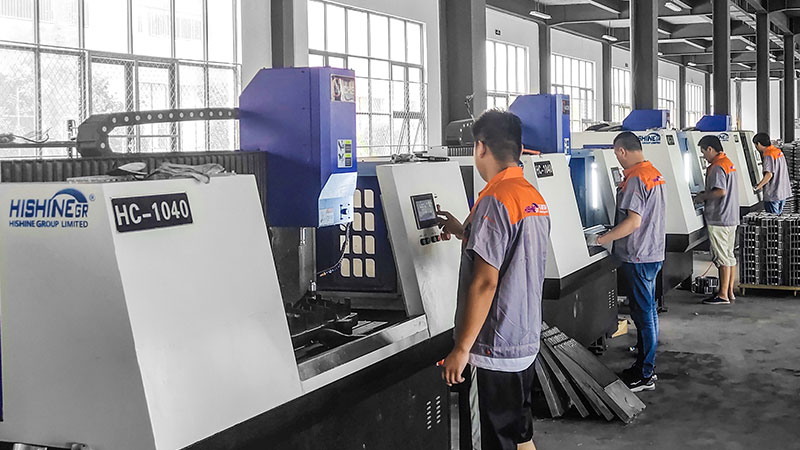 Powder spray line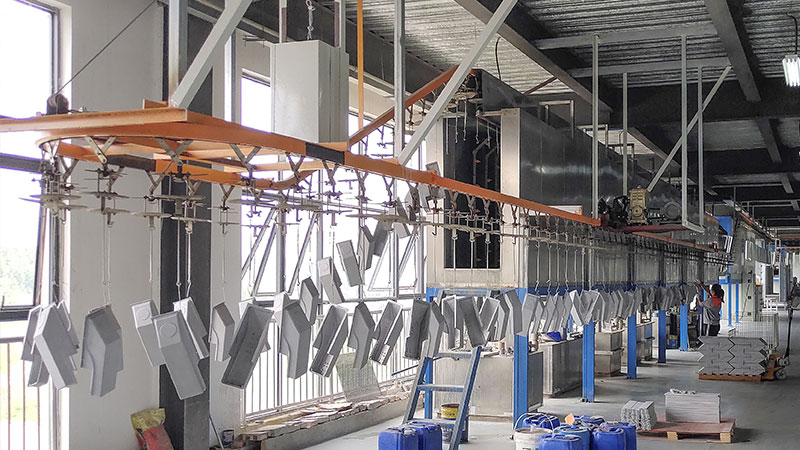 Automatic LED chip mounter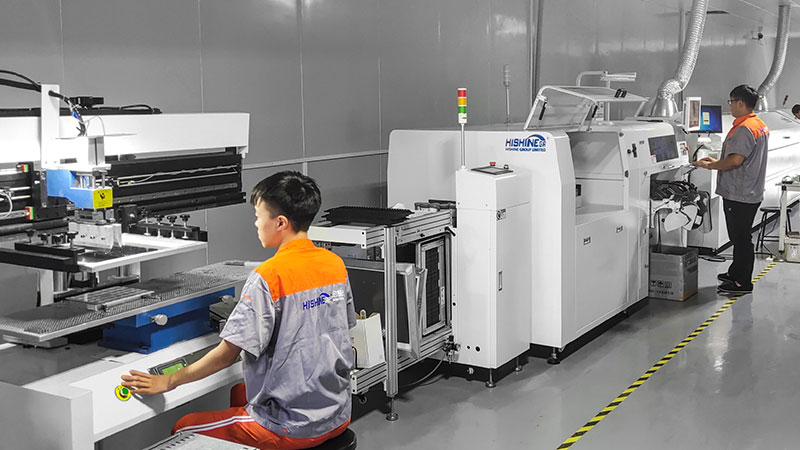 Automatic production line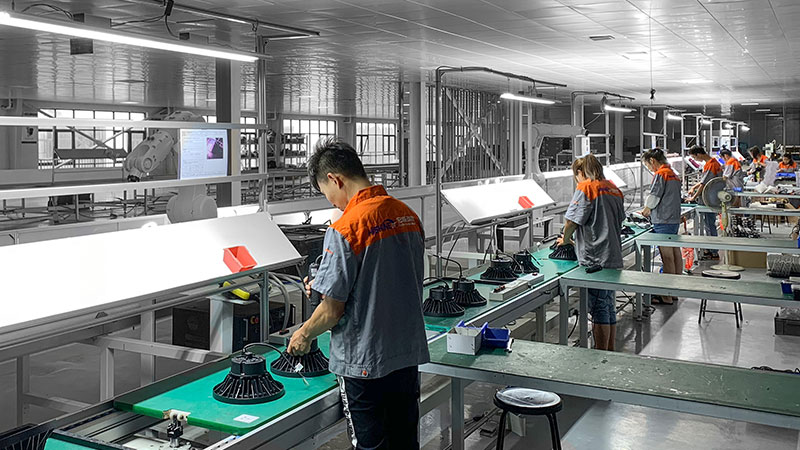 HISHIEN participates in outdoor lighting exhibitions in more than 10 countries every year. In the past 15 years, HISHINE has been pursuing excellence and making products on the road to the extreme.
Under ISO9001:2000 Quality Management System, We have established a worldwide distribution network. Our engineers with more than 10 years of LED experience and our reliable sales team provide high-quality technical products and sales services. We are continually developing our innovative products to meet the market needs with qualified, innovative, Eco-friendly and energy-saving LED lights and push the world to the era of "Green" illumination.
HISHINE Best Selling Sports Lighting
HISHIEN provides great LED sports lighting replacements for your field, gym, or stadium at competitive prices.
We always work with licensed professional electricians to get the job done quickly and done right. Plus, every proposal from our lighting consultants is free of charge!
To get your free quote on a sports lighting overhaul, whether it be for your school, business, or park, contact us today!
HISHINE have so many years experience on the stadium project, if you are working on the project, please feel free to contact info@hishine.cc to get a free DIAlux simulation.
Why choose HISHINE?
1. HISHINE is a professional R & D manufacturer.
2. Provide one-stop service for design, lighting and installation instructions.
3. World's top design system, easy installation and more convenient maintenance.
4. 15 years focus on glare and light pollution control.
Why choose HISHINE?
1. High lumens, saving 40% of electricity cost
2. Unique light distribution technology effectively controls glare, enhances sports comfort and the experience of watching games.
3. Separate control technology of lamps and drives increases the flexibility of the system and can effectively reduce the load on the road or light pole.
4. Advanced remote dimming function, which can automatically adjust the luminous flux output as required to meet the lighting needs of the venue.
5. HISHINE's lighting technology surpasses traditional lighting in the past, bringing a better experience to athletes, spectators and TV broadcasts.
6.HISHINE's constantly pursues high quality, ease of use and installation of products, saving installation and maintenance costs
7. We are not only the luminaire makers, but also designers for the comfortable light.
8. 10-year constant illumination guarantee on site.