Energy saving and emission reduction is the general trend of all countries in the world. In line with the trend of the times, energy-saving and environmentally friendly solar street lights have also won the love of the market. However, there are always some manufacturers who are motivated by their interests, and in order to make more profits, they shoddy when producing.
How to choose a reliable solar street light? Users need to carefully compare their product parameters, such as solar panels, lamp bead power, controllers, street lamp pole materials, etc.
Hishine Bifacial integrated solar street light integrates high-conversion monocrystalline silicon solar panels, high-efficiency LED light modules, intelligent battery management systems, and high-efficiency controllers. The angle of the lamp can be adjusted according to the actual environment, which is easy to maintain; intelligent control, microwave induction, energy saving and environmental protection, effectively prolonging the life of the whole lamp; the appearance is simple and elegant.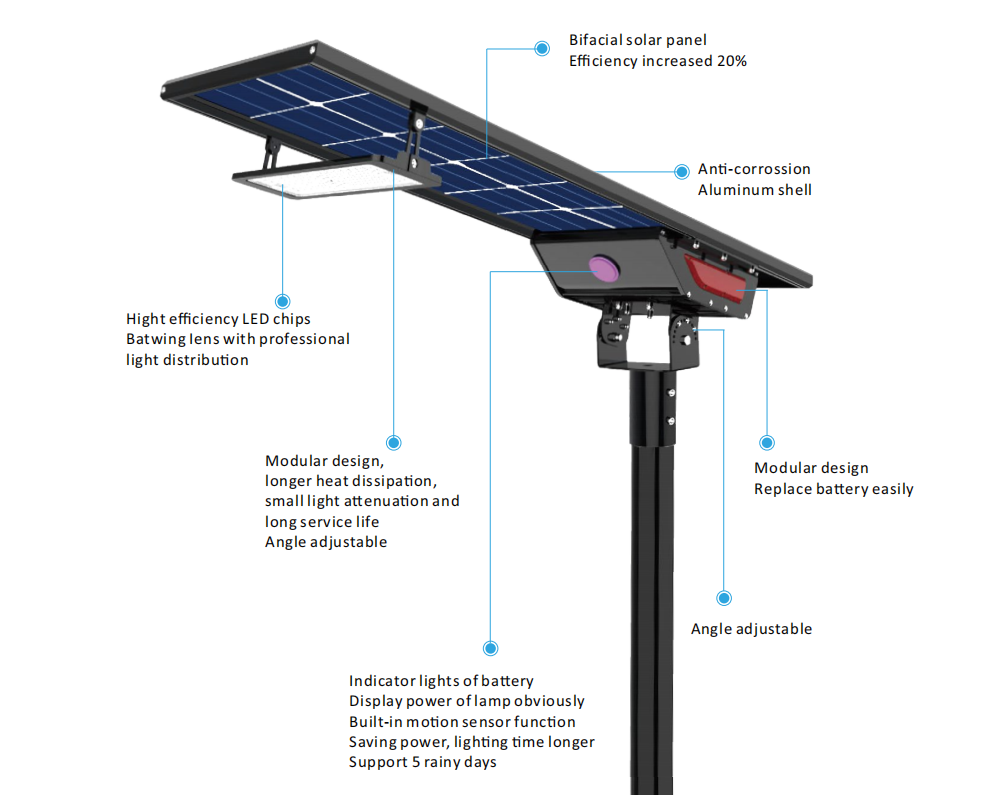 High conversion rate monocrystalline silicon solar panel
Hishine Bifacial integrated solar street lights use monocrystalline silicon solar panels, which have the highest photoelectric conversion efficiency among all types of solar panels. Monocrystalline silicon is generally encapsulated with tempered glass and waterproof resin, which is durable and has a service life of 15-25 years.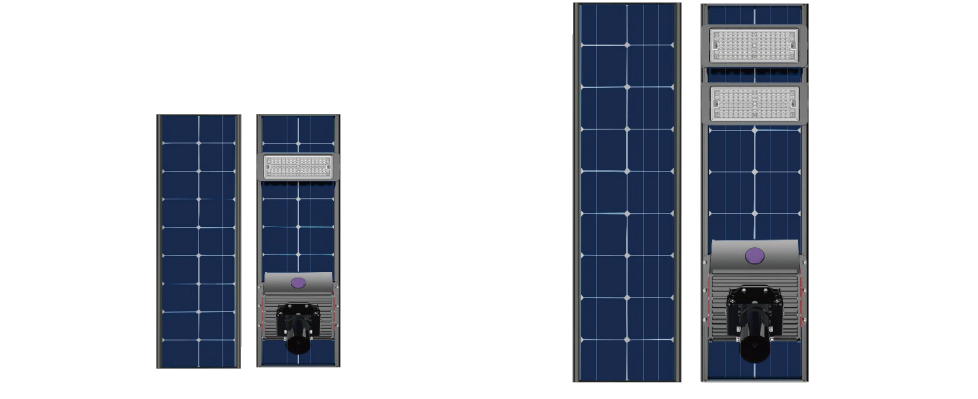 The solar panel is large enough to get enough sunlight to charge the battery, and the high-power LEDs can light up the entire night even if it rains for a few days.
High-efficiency LED light module
The quality of LED light source will directly affect the use effect of solar street lights. Ordinary LEDs have always had problems with heat dissipation, low light efficiency, fast light decay, and short light source life.
Hishine Bifacial solar integrated street light adopts Philips LUMILEDS 3030/5050 lamp beads, high-efficiency LED lamp module, bat-wing light distribution (120°), to achieve uniform distribution of light and greatly improve the lighting effect. Take the 60W parameter as an example: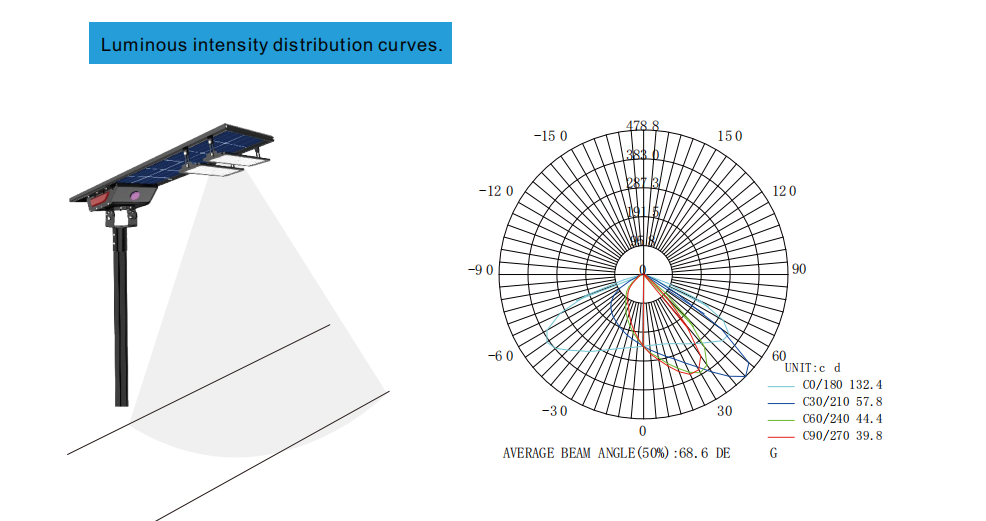 Intelligent control, microwave induction
Hishine solar integrated street light control system adopts microwave induction, and the brightness can be adjusted according to the flow of people and traffic. The flexible conversion from 3000 to 6500k not only meets the lighting needs of different environments, but also saves energy to the greatest extent.
Easy to operate and easy to maintain
Hishine solar all-in-one street light adopts patented design, no need to open the cover for installation and disassembly, convenient operation and easy maintenance. The solar panel can adjust the angle of the lamp according to the actual environment to obtain the highest charging efficiency.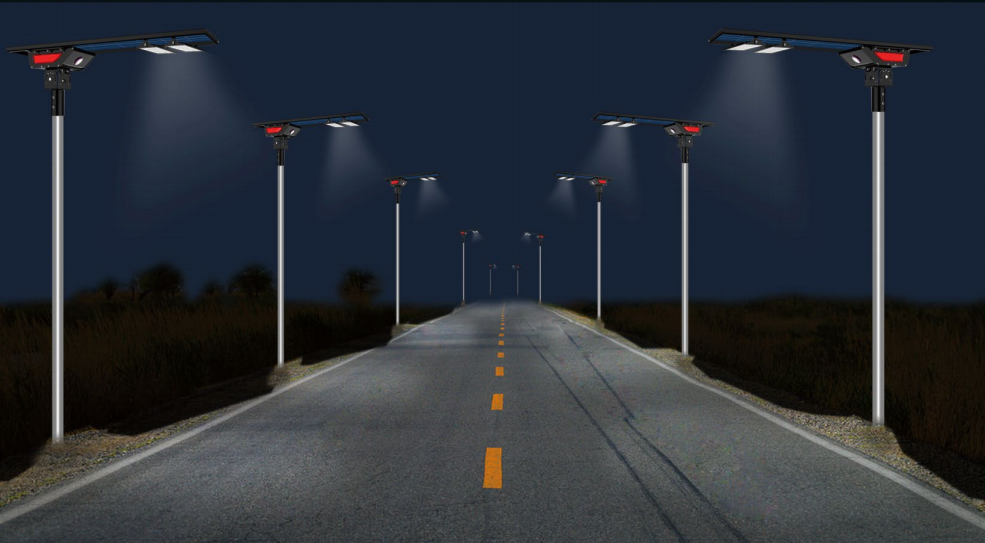 Industrial style design, simple and elegant appearance
The structural design of Yunjing solar integrated street light is reasonable, the appearance is simple and elegant, and the industrial style design is cleverly added, which is retro and unique. There are two sizes of lamps, multiple colors can be customized, waterproof grade IP65, suitable for streets, squares, parks, communities and other places.
Solar energy is considered one of the best renewable energy sources. With the continuous development of science and technology, solar energy is more and more widely used. As a company specializing in the production of solar street lights, Hishine solar street lights have 80,000 square meters of professional production workshops for solar panels, lithium batteries, solar controllers, LED lamps, light poles, etc., and 200 of various production equipment to meet the annual sales of 500 million yuan. Multiple sets have laid the foundation for the production of high-quality solar street lights.