With the development of modern technology, why should we choose LED stadium lights manufacturer? What benefits can LED stadium light manufacturers bring? What are the advantages of LED stadium light manufacturers? This article will take you to understand why choosing a good LED stadium light manufacturer can bring continuous benefits,
Let's first understand what conditions a qualified lighting manufacturer needs: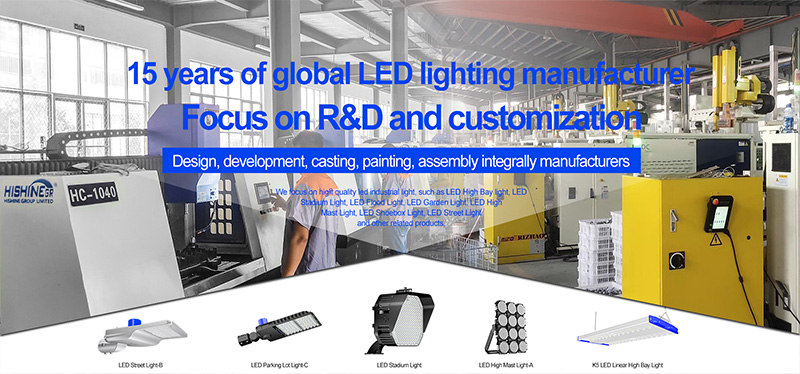 Why is HISHIEN one of the top ten LED stadium lights manufacturers and suppliers in China?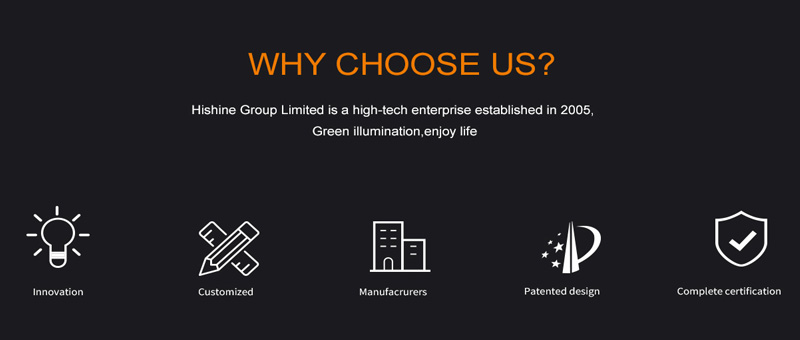 HISHINE Group Limited Development History
Hishine Group Limited is a high-tech enterprise established in 2005. We have two branches, one is Huaibei Ruite Technology Co., Ltd. and the other is Hishine Optoelectronics Co., Ltd. We focus on high-quality LED stadium lights, such as LED sports lights, LED sports lights, LED parking lot lights, LED street lights, LED garden lights, LED grow lights, solar led lights and other LED-related products.
HISHINE R&D team
Since its establishment, the company has always adhered to the scientific development concept, taking technology research and development and personnel training as the company's development goals. The company has set up a dedicated technology research and development department, and has an experienced and innovative technology research and development team.
The company attaches great importance to the research and development of new products or new processes, and has a very large investment in research and development every year, and has obtained excellent results. Among them, it has won the honorary title of Shenzhen High-tech Enterprise and Shenzhen Innovation, and applied for a number of patents. In product research and development, the company strengthens exchanges and cooperation with international scientific research institutes in accordance with technological development and market demand, and transforms scientific research results into productivity and creates benefits for the enterprise through technology introduction and cooperative development.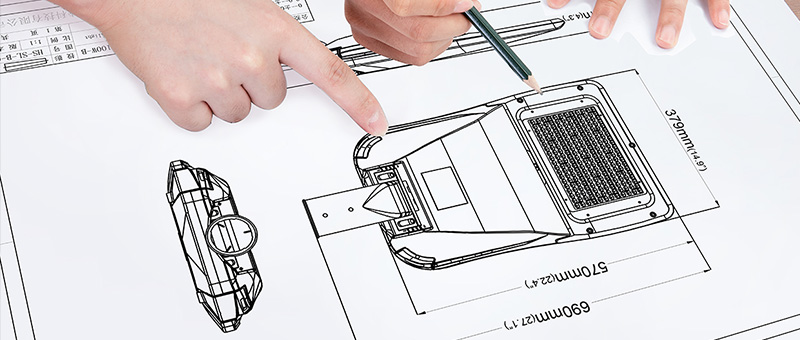 1. Independent research and development department. We only manufacture led lights that we designed and personally molded.
2. We have professional lighting engineers who can provide you with professional simulation for lighting solutions.
3. We have more than 100 high-tech research and development patents.
4. Have a complete LED light tester, such as IES, salt spray, waterproof and vibration test.
R & D testing technology
We have a complete internal testing facility in the R&D center, which can conduct safety testing,
Before putting all products on the market, conduct optoelectronic testing, product reliability testing and life testing.
Temperature and humidity programable chamber

The parameters and performance of the LED luminaire after the temperature change of high temperature,

low temperature, damp heat or constant test.

Water-proof test

Strictly use waterproof test equipment for waterproof testing to achieve a qualified product waterproof rating

Precision Salt Spraying Tester

The salt spray test conforms to GB, CNS, ASTM, JIS, and ISO standards.The surface of various materials is tested for corrosion resistance after coating,plating, anodizing, anti-rust oil, etc.

IES device

The horizontal distribution photometer realizes various measurement methods such as B-β, A-α and C-γ by rotating the lamp.

Can work with double column or single column,with special spectrum analyzer for spatial chromaticity measurement

Simulated transport vibrator

It is used to simulate the bumpy environment of goods in the container during transportation,to test the structural strength of the product and the ability of the packaging to protect the product.Meet the standards: ASTM D99, ISTA 1A-2001, EN71

Drop Test

It is mainly used to assess the degree of impact of the package on the drop impact during the actual transportation and loading and unloading process,and to assess the impact strength and packaging design rationality of the package during handling.
LED stadium lights manufacturing capacity
Why do we say that having our own manufacturing and production equipment has greater advantages? In the past, traditional foreign trade was processed in factories outside and assembled, and there were many undesirable factors here. A stadium light needs a lot of accessory combinations in order to maximize its lighting and quality. The decentralized external processing of products cannot guarantee the quality of the products, and the delivery time is also long. Now many customers are unwilling to choose traditional trade cooperation. Directly choose the LED stadium manufacturer to cooperate. Product quality is guaranteed, and such a large team pave the way for market channels in the back. The most important thing is the price advantage.
Let's take a look at the production capacity of HISHINE LED stadium light manufacturers:
Hishine has state-of-the art manufacturing equipment to tackle any project. From die-casting to powder painting to CNC machining, we are a vertically integrated manufacturer allowing rapid production and new product development for our customers. We use the highest quality components along with trained professionals to produce the best products in our facility.
Laser cutting machine

Bending machine

Sheet metal forming

CNC machine CNC

Polishing equipment

New aluminum die-casting workshop

Drilling CNC

Powder spray line

LED chip mounter

Automatic package machine

Stadium lights aging line
HISHINE company certification
Hishine is a high-tech enterprise lLED lighting manufacturing company. With factory ISO 9001, import and export license certificate, Alibaba evaluation supplier, audited Chinese manufacturing supplier, Shenzhen TOP10 LED manufacturing factory, Shenzhen Top 100 LED manufacturing factory in China, Shenzhen Chenggong Group Enterprise Association member, LED Member of Lighting Association

UL, DLC, SAA, PSE, CE-EMC, CE-LVD, CB, ROHS, IP65 waterproof, etc. for LED stadium lights, LED sports lights, LED plant growth lights, LED shoe box lights, LED street lights, LED high mast Light, LED flood light, LED Linear High bay light.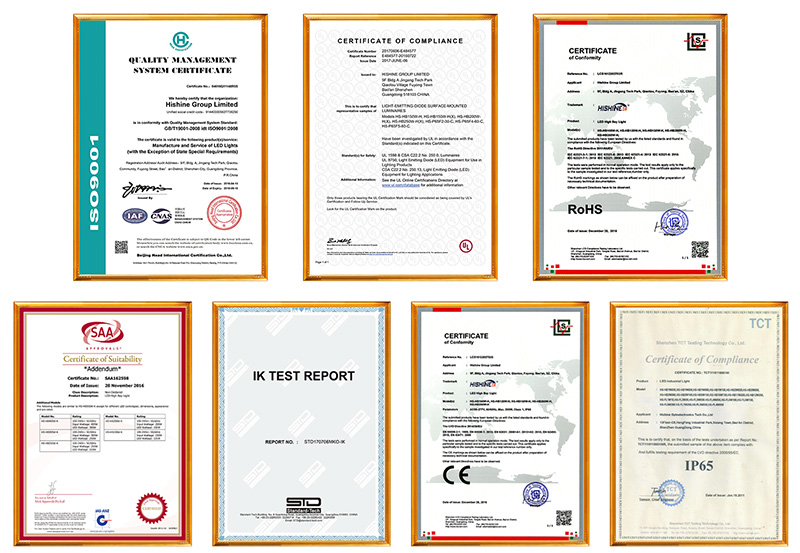 A qualified manufacturer has these R&D teams, manufacturing capabilities, and company qualification product certifications, but the most important thing is a professional sales team. Every sales member of HISHIEN has professional product technology and sales skills training and assessment. Not only is the product professional, but also the professional lighting industry knowledge such as different stadium lighting standards and lighting intelligent control systems.
Exhibition
HISHINE is not only a manufacturer of LED stadium lights. With the spirit of "concentration, innovation and pragmatism", the company pays more attention to brand building; pursues international lighting. Every year, I participate in large and small international lighting exhibitions to communicate with customers and learn. For example: Hong Kong Trade Development Council Lighting and Lighting Fair Spring, Frankfurt Lighting Fair Light+Building, San Diego Lighting Fair Strategies in Light, Philadelphia Lighting Fair LFI, Los Angeles Lighting Fair Lightshow West, UAE Dubai Lighting Exhibition Light Middle East, waiting for the exhibition.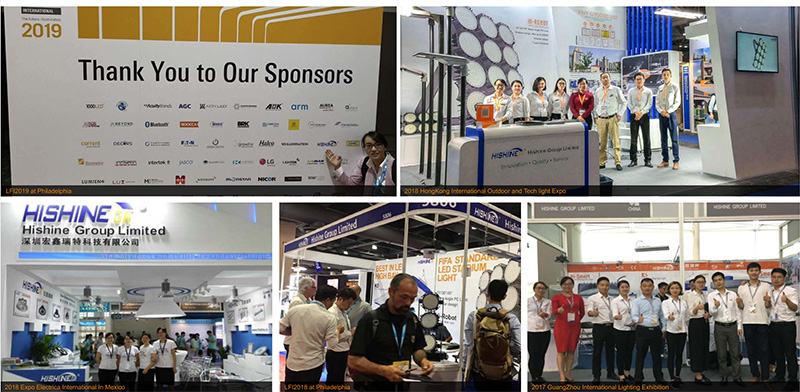 Conclusion
HISHINE Group Limited is a top 10 LED stadium light manufacturer in China. We not only research and develop lamps and produce lamps, we are more professional to provide the best lighting solution design for your stadium.