For your best lighting LED Stadium Lights
With the changes of the times, every aspect of people is constantly improving, and of course HISHINE is no exception. HISHINE entered the global lighting industry as early as 2011, market-oriented, and constantly improve the value of products. In 2019, through market feedback and customer suggestions. Aimed at breaking the original design concept of sports lighting, the HI-SHOOT series 600W LED Stadium Light was designed.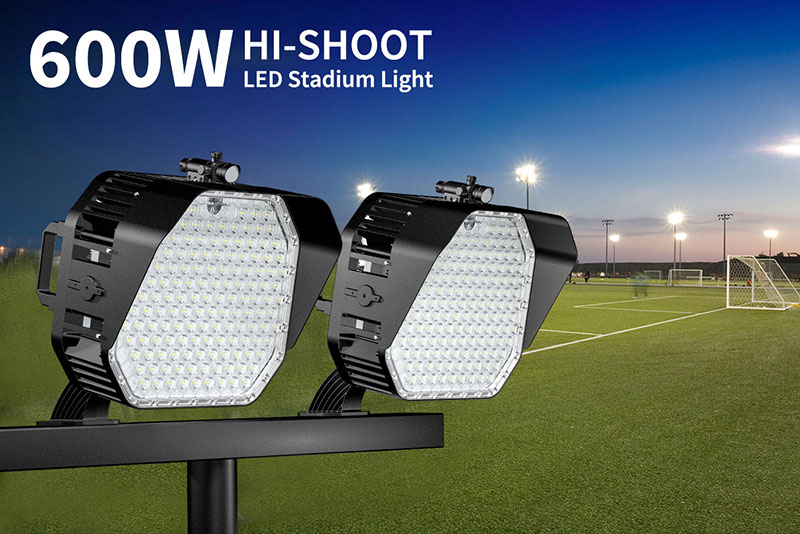 The core design concept of HI-SHOOT series 600W LED Stadium Light is
1. The practicality of the environment, (HI-SHOOT reaches the most perfect state for the change of bad weather in high altitude)
2. Intelligent energy-saving (LED Stadium Light has passed simulation tests, constantly trying to reach a maximum lumen of 180LM / W, which is also the highest ideal state at present)
3. Saving human cost (The manual installation fee involved in the installation is very high. In order to bring more benefits to customers, HISHINE has worked hard to install this piece, and also equipped with some intelligent auxiliary installation accessories. To achieve the most efficient and quick installation.) Let's take a look at the LED Stadium Light of the HI-SHOOT series.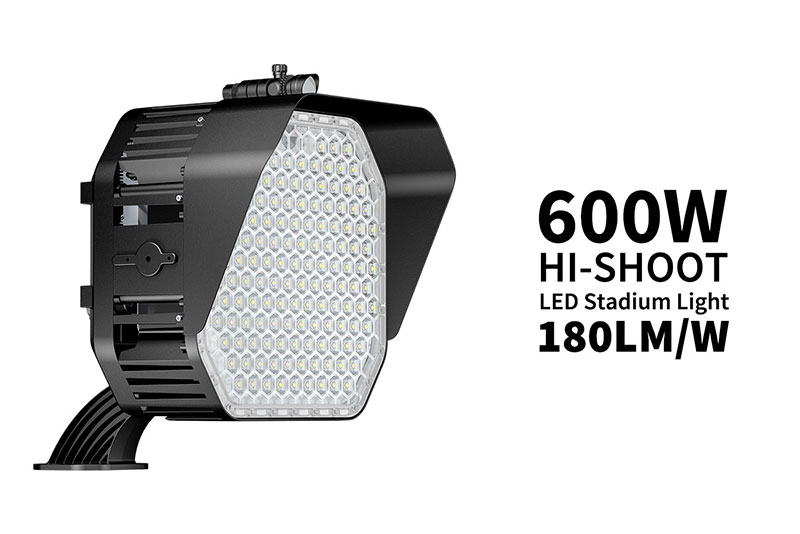 We light your path to victory by providing a system that
outperforms anything you have experienced in the past.
A system that disappears before your eyes but
highlights everything you want and need to see.
A system that operates effortlessly and efficiently so you
can elevate your game and experience every moment.
HI-SHOOT series 600W LED Stadium Light Performance
HID
Legacy HID systems provied excellent initial light levels and uniformity, but difficult to contain illumination to the field.
This presents challenges in reducing the spill light surrounding the field.
LED
Intercept's LED optics are recessed in a low glare shield providing the perfect combination of optical accuracy and cutoff.
When aimed on the field, this results in excellent light levels and uniformity throughout the life of the system, as well as a significant reduction in spill light.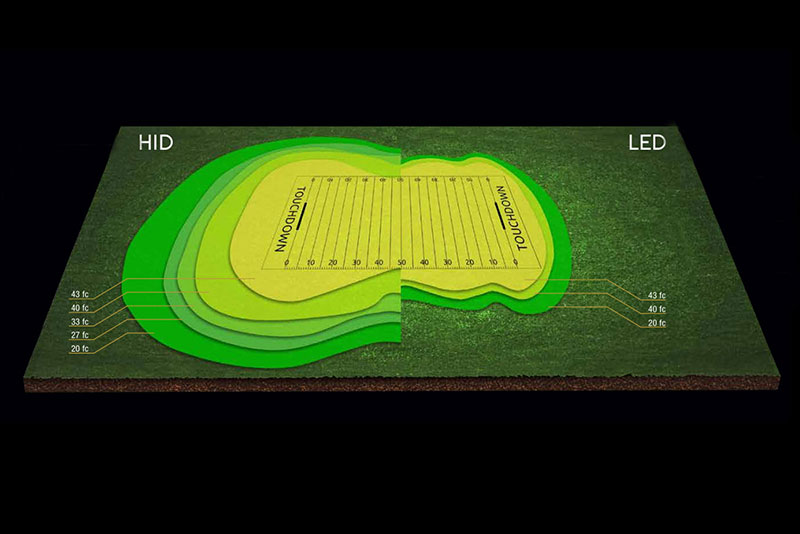 HI-SHOOT gives you a reason to buy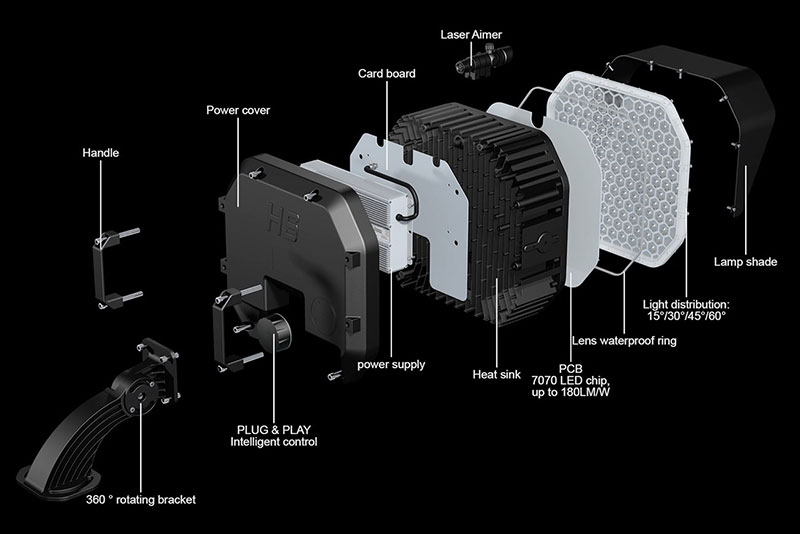 ● Super bright
high lumen efficacy 180lm / w, saving cost by 40%
● Glow
High lumen SMD7070 LED chip, 40% stronger than SMD3030 penetration, 10% stronger than SMD5050 penetration
● Support TV broadcast standard
● Light Distribution Optional
Beam Angle: 15 °, 30 °, 45 °, 60 ° are available. The lens adopts hexagonal honeycomb design and UV stabilized materials.
● Utlra Slim
Premium Structural design, utlra slim, without bulky components, which greatly reducing shipping cost and labor, and make the lamp structure safer and more scientific.
● Extraordinary Thermal Management
Unique air convection radiator design provides superior ventilation efficiency. Air is freely flowable among the pins in any direction, maximizing heat dissipation and lifespan of the LEDs.
● High Impact Resistance
Meet IK10 standards. Protected against 20 joules of impact (the equivalent to the impact of a 5kg mass dropped from 400mm above the impacted surface).
● Anti 17-level Wind Power
The air convection structure of the luminaire can effectively reduce the wind load, light weight and small windward surface, and has strong wind resistance.
● Intelligent Control
Intelligent Zigbee controller, supports wireless on / off, dimming, color turning, grouping, status monitoring, remote control, all simply and easily via smart-phone.
● Various mounting brackets:360 ° rotating bracket, round pole bracket, U-Bracket

HI-SHOOT 600W LED Stadium Light Application
Various light distributions meets widely sports lighting applications : outdoor and indoor sports arenas, stadiums, etc. High mast flood lighting applications: expressways merge or intersect, airport, shipping terminals, heavy-industry zones, Highway rest area,Plazas, square, prison yards, etc.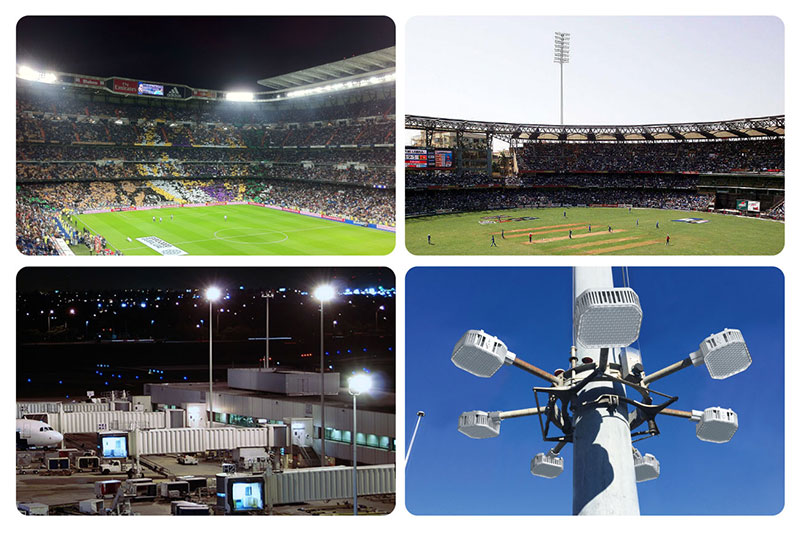 HI-SHOOT began to sell in early June, 600W LED Stadium Light has UL, DLC, CB, SAA, IP67, IK10, Anti 17-level Wind Power test report, looking forward to our cooperation.
Ready to Invest in New Lighting?
Stadium lights are an excellent upgrade for any stadium, professional or non-professional. Before you invest, make sure you work through these variables and factors to help you select the appropriate lights. You'll save, and you'll end up with the best quality stadium lights, that will last for the next 25 years if you maintain them properly, while reducing your annual energy bills by almost half.
please feel free to contact us at email info@hishine.cc