Description
---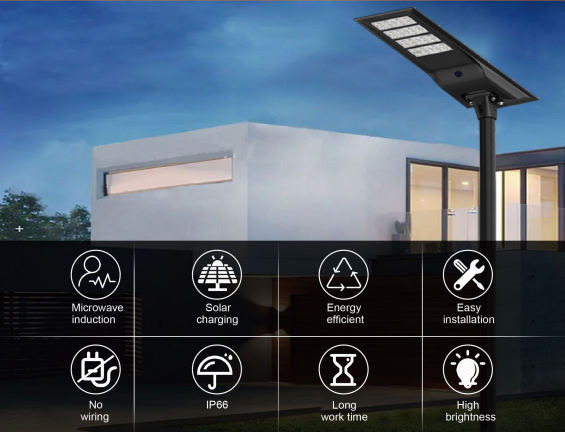 Features:
1. Mainstream integrated structured design, saving transportation costs.
2. Bridgelux chips 3030 (Lifetime 100000 hours).
3. imported high-efficiency monocrystalline silicon.
4. The whole lamp can be 30' adjustable.
5. Built-in large-capacity LifePO4 battery
6. The beam angle is 70°140", Asymmetric 30.
7. Easy to install and disassemble, convenient maintenance.
8. With 4 lighting modes, flexible to switch via remote control.
9. Remote control distance of up to 15 meters.
Product Details: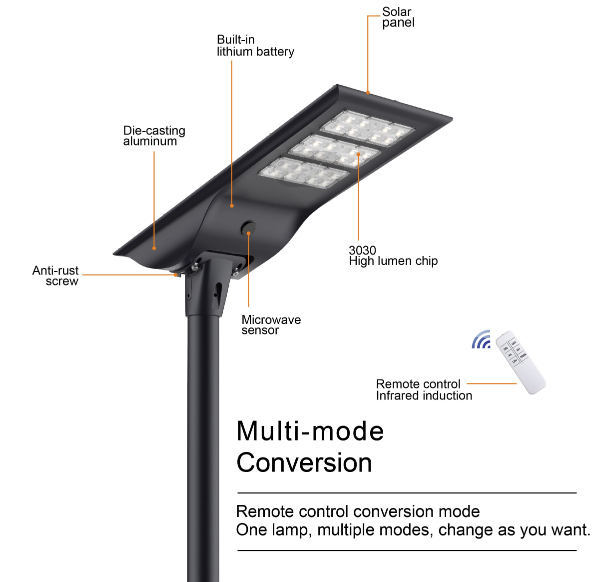 1.Smart Sensor: Multifunctional microwave induction.
2.Induction Range: 130° induction angle, 10 meters induction distance
3.Smart Remote: There are multi-working modes, you can change the working mode are you need.
4.Bridgelux Chips 3030: High Brightness, lifetime 100,000 hours.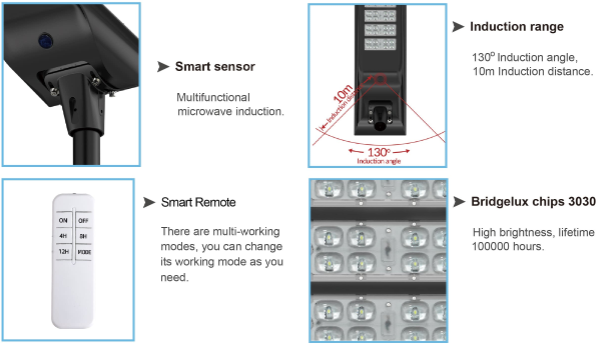 5.Solar Panle: High-efficiency solar panel, >21% photoelectric conversion rate, special surface treatment.
6.Thickened Aluminum Die-Casting Shell: The shell is made of ADC12 die-casting aluminum, which has high temperature resistance anti-corrosion, effecticely guarantees the service life of the lamps.
7.The Whole Lamp IP66 Ingress Protection: Lamp with silicone waterproof sealing striop, UV-resistant without failure.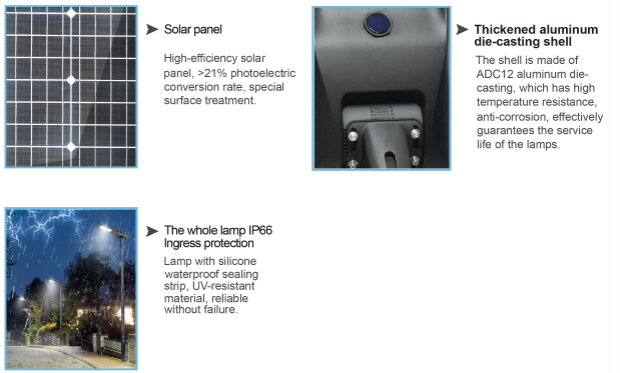 Smart Sensing

Microwave Induction: When the sensor detects the movement of the human or object, the light will turn on. the sensing distance is about 10 meters.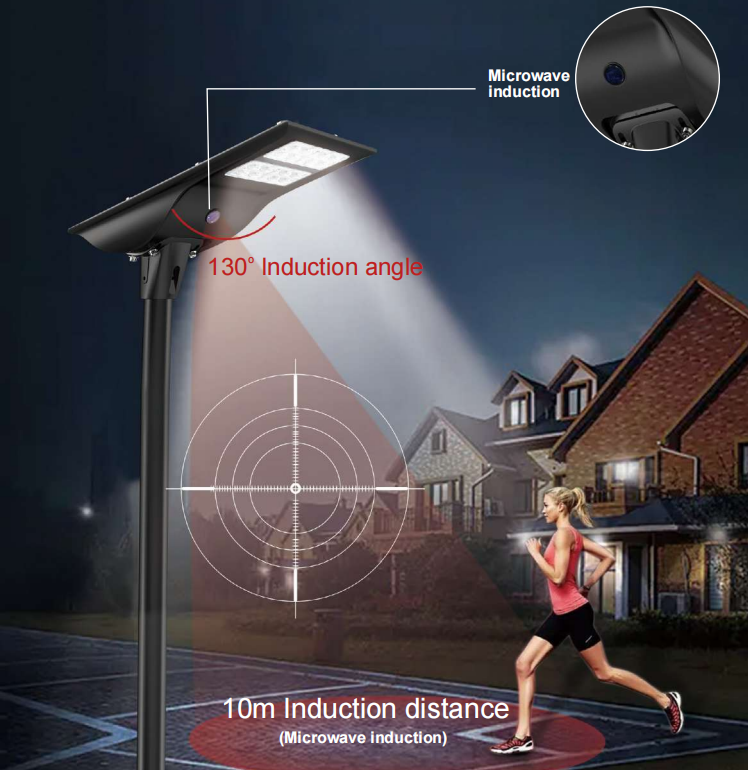 Actual Picture
---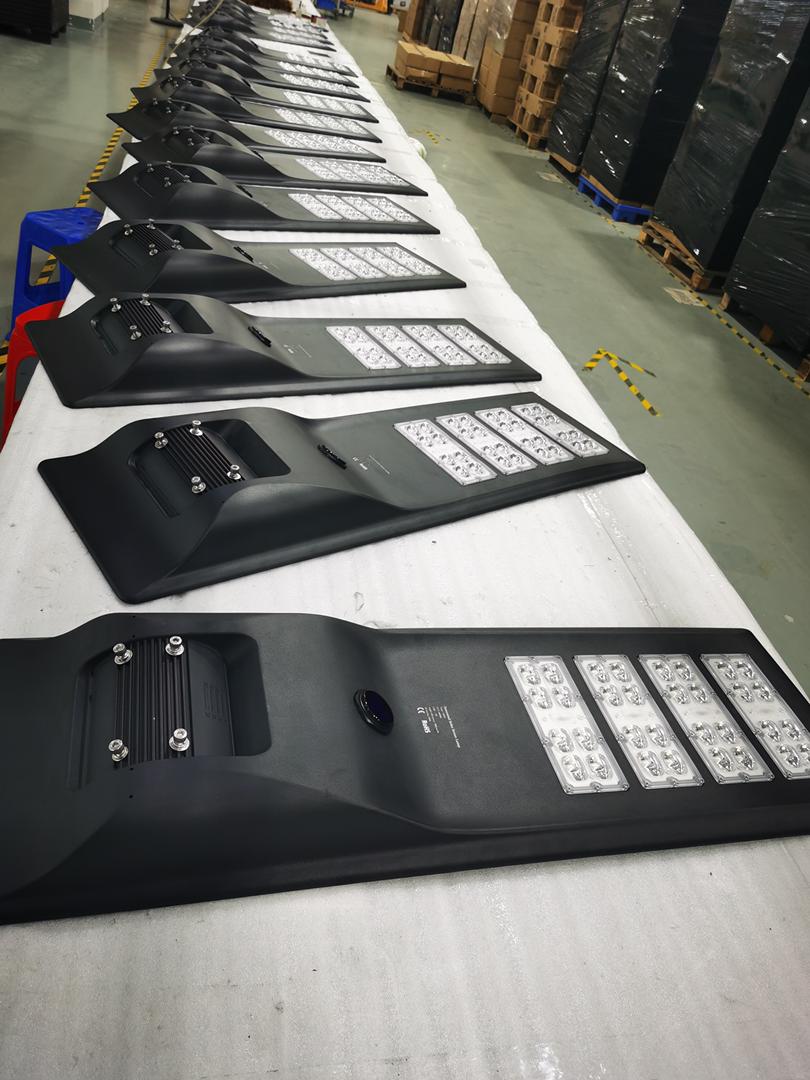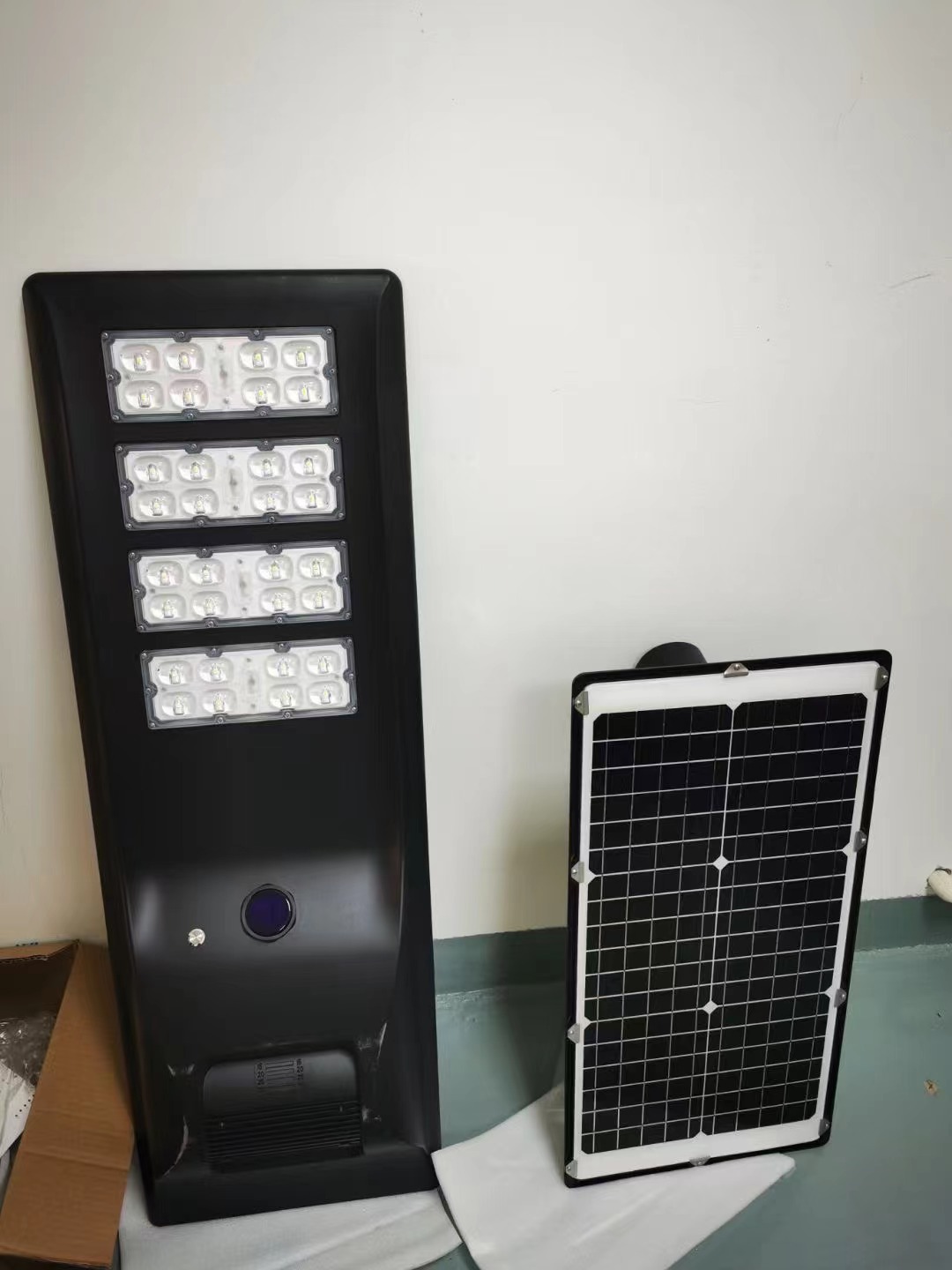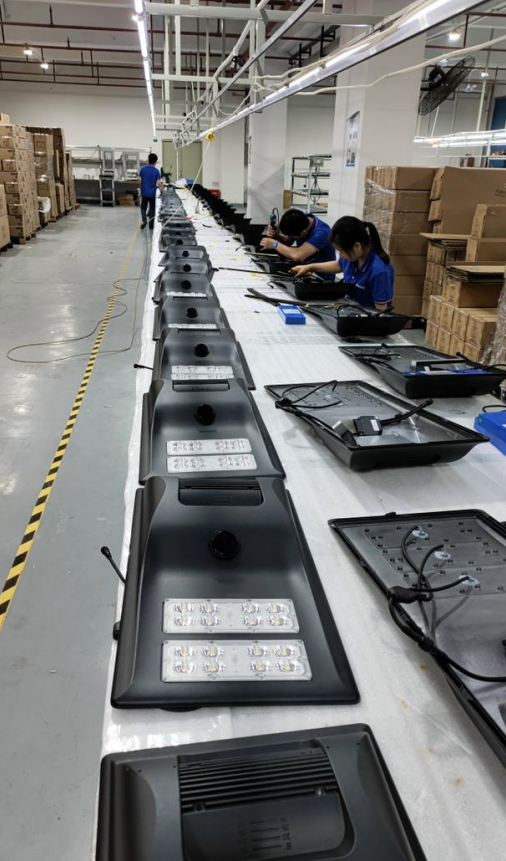 Datasheet
---
Model

HS-SSL-30W

HS-SSL-40W

HS-SSL-60W

HS-SSL-80W

HS-SSL-100W

HS-SSL-120W

Solar Panel

6V, 30W

6V, 40W

6V, 42W

6V, 50W

6V, 55W

6V, 65W

Lithium Battery

80WH,3.2V

116WH,3.2V

144WH, .2V

192WH,3.2V

240WH,3.2V

288WH,3.2V

CCT
2700-6500K
Lumen Efficiency
180LPW
Charging Time
6-8 hours

Working Time
12-15 hours(5-7 rainy days)
Control Mode
Time control+Microwave induction or Infrared induction
IP Rating
IP66
Mounting Height
4-6 meters
5-7 meters
6-8 meters
9-10 meters

10-11 meters

Installing Space

Between 2 Lamps

10-22 meters

Warranty
3 years
Product Size(mm)
697*361*209
846*361*209
1096*361*209
Net Weight(KG)
7

7.7
9
9.5
11
11.7

Applications:
---
1. Highway: Hi-Small LED solar street light provides powerful light efficacy and an independent heat dissipation system, with an intelligent control system(LoRa/DALI/ZigBee...), it can be easily managed without leaving the center room.
2. Urban Roads: A sleek and modern design that blends well with contemporary urban environments. They are also compact and lightweight, making them easy to install and maintain.
3. Outdoor Way & Parking Lot: Hi-Small LED solar street light is equipped with advanced sensors and controls that allow for remote monitoring and adjustment of lighting levels. This ensures that energy is not wasted by lighting areas that are not in use and that the lighting is optimized for maximum efficiency.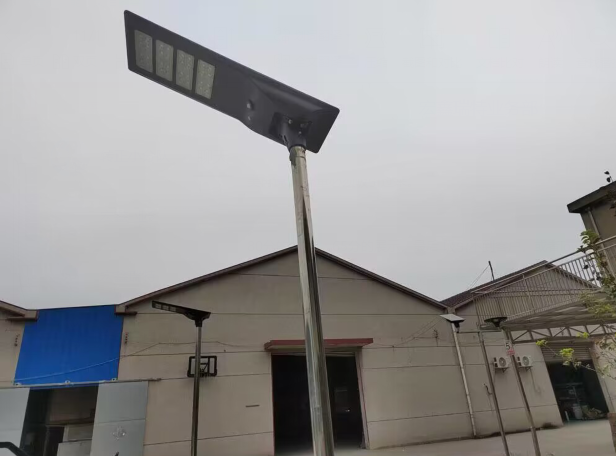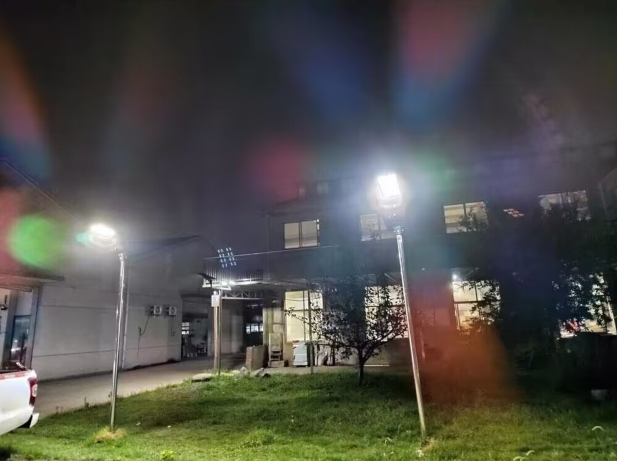 Hot Tags: Economical LED Solar Street Light | MPPT Controller, manufacturers China, suppliers China, factory, wholesale, buy, Round Led Retrofits, led retrofit lamps, led can light retrofit, Panel High Bay Light, Flat Panel High Bay Light, Endless Connection High Bay