Product name: LED Stadium Flood Light

---
Overview:
Hi-Robot LED Stadium Flood lights (DLC) have been approved for rebates in many cities. The high-lumen design makes the power of 1500W LED floodlight Up to 160LM/W. The hexagonal design has the largest cooling area and the best heat dissipation performance, and the service life is more than 100,000 hours, while the service life of HID bulbs is less than 10,000 hours. The zero flicker light is very suitable for slow motion images and HD TV live broadcasts. Provide excellent security, warehouses, buildings, landscapes, stadiums, playgrounds and surrounding outdoor lighting. These floodlights are waterproof and consume 70% less power. Use UL rated IP67 Meanwell drives. Use these high-lumen floodlights to make the most of your stadium light lumens.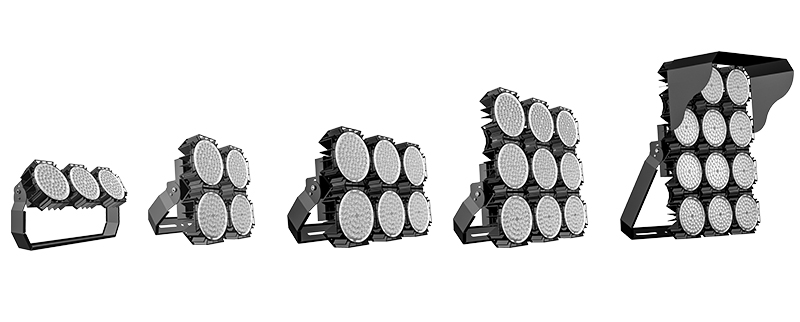 Why Choose Hi-Robot stadium lights?
---
-Modular design
-320W/480W/720W/1000W/1300W, 160 LM/W
-UL / DLC/CB/SASO/RoHs/CE/SAA/IK10 approved
-20°, 30°, 45°, & 60x100° beam angle
-AC100-277 or AC240-480 Voltage
-5000K CCT (4000 & 6000K optional)
-Drag coefficient: 12 windage
-Custom bracket optional
-1-10v dimming, intelligent dimming (light control, optional wireless control)
-Intelligent control system
-Wind Test Certified & 20KV Surge Protection.
-Power Factor .95, IP Rating: IP66
-Equipped with a 6FT Power Cord (12FT Power Cord Optional)
HI-ROBOT LED flood lighting Specifications



---
Part Number

HS-HM320W-A

HS-HM480W-A

HS-HM720W-A

HS-HM1000W-A

HS-HM1500W-A

Wattage

320W

480W

720W

1000W

1500W

Lumen Output

51200lm

76800lm

115200lm

160000lm

240000lm

LED Quantity

180pcs

240pcs

360pcs

540pcs

720pcs

Size(MM)

L690*W230*H75

L460*W460*H75

L690*W460*H75

L690*W690*H75

L920*W690*H75

LED Chip

Lumileds 5050

Luminous Efficacy

160LM/W

CCT

3000K-6500K

CRI

≥70Ra, or ≥90Ra

Beam Angle

20°/30°/45°/60X100°

IP Rating

IP67

SPD

20kV SPD standard (40kV optional)

Working Temperature

-30℃ to +55℃

Input Voltage

AC100-277V/347V/480V, 50/60Hz, >0.92

Warranty

7 years

Lifespan

>100,000 Hrs (L70 @ 25°C)

Material

Die-casting Aluminum housing+PC lens

Certificates

UL/CB/CE/ROHS/SAA/SASO/IK10
Actual Picture
---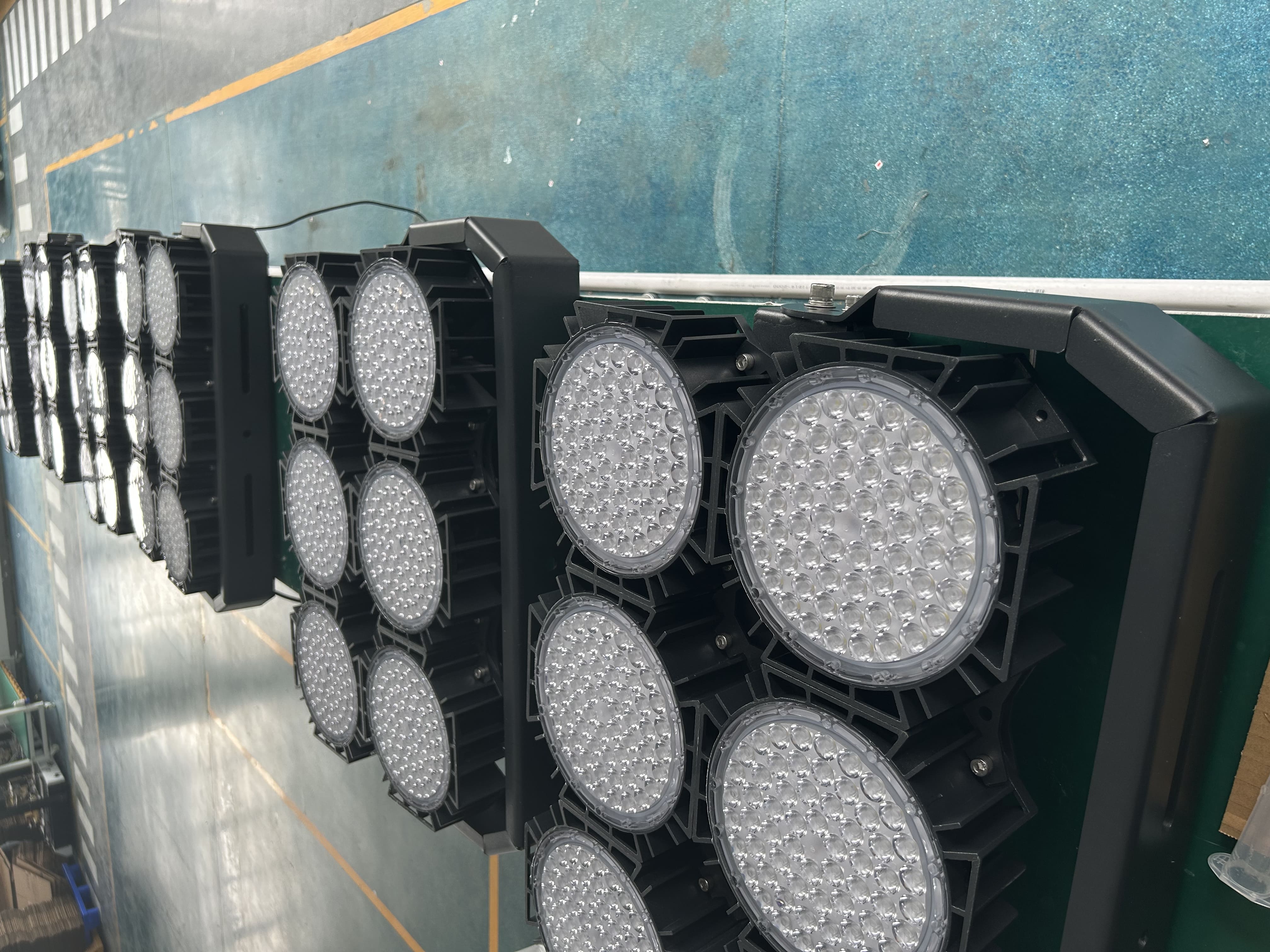 Application
---
※ Olympic Stadium: Hi-Robot provides bright and even illumination for players and spectators. With DMX/DALI control high mast light can make complex light shows and scene modes.
※ Outdoor Sports Arenas: 160LM/W provides powerful illumination that allows games to be played well into the night. Such as basketball fields, soccer fields, tennis courts, rugby fields, beach volleyball fields, baseball fields, hockey fields, racetracks, velodromes, golf courses, and swimming pools...
※ Indoor Sports Arenas: Hi-Robot's design allows the lamps to be evenly distributed across the playing surface.
※ Port Terminals: Super high mast light provides bright and efficient illumination that enhances safety and visibility.
※ Airport and Aprons: Hi-Robot high mast light's powerful illumination and Typhoon 12 resistance allow workers to see, even in low-light conditions, reducing the risk of accidents and increasing productivity.
※ Squares and School Playgrounds: Hi-Robot high mast light powerful illumination allows children to play safely, even in low-light conditions, reducing the risk of accidents and increasing playtime.
※ Circular Roads and Bridges: Hi-Robot high mast light's high brightness lighting chip and IP67 waterproof, make road driving safe and bright.
※ Prison Courtyards: Powerful illumination allows drivers and security personnel to see, even in low-light conditions, reducing the risk of accidents and enhancing security.
Tennis Court Lighting Solution in Cyprus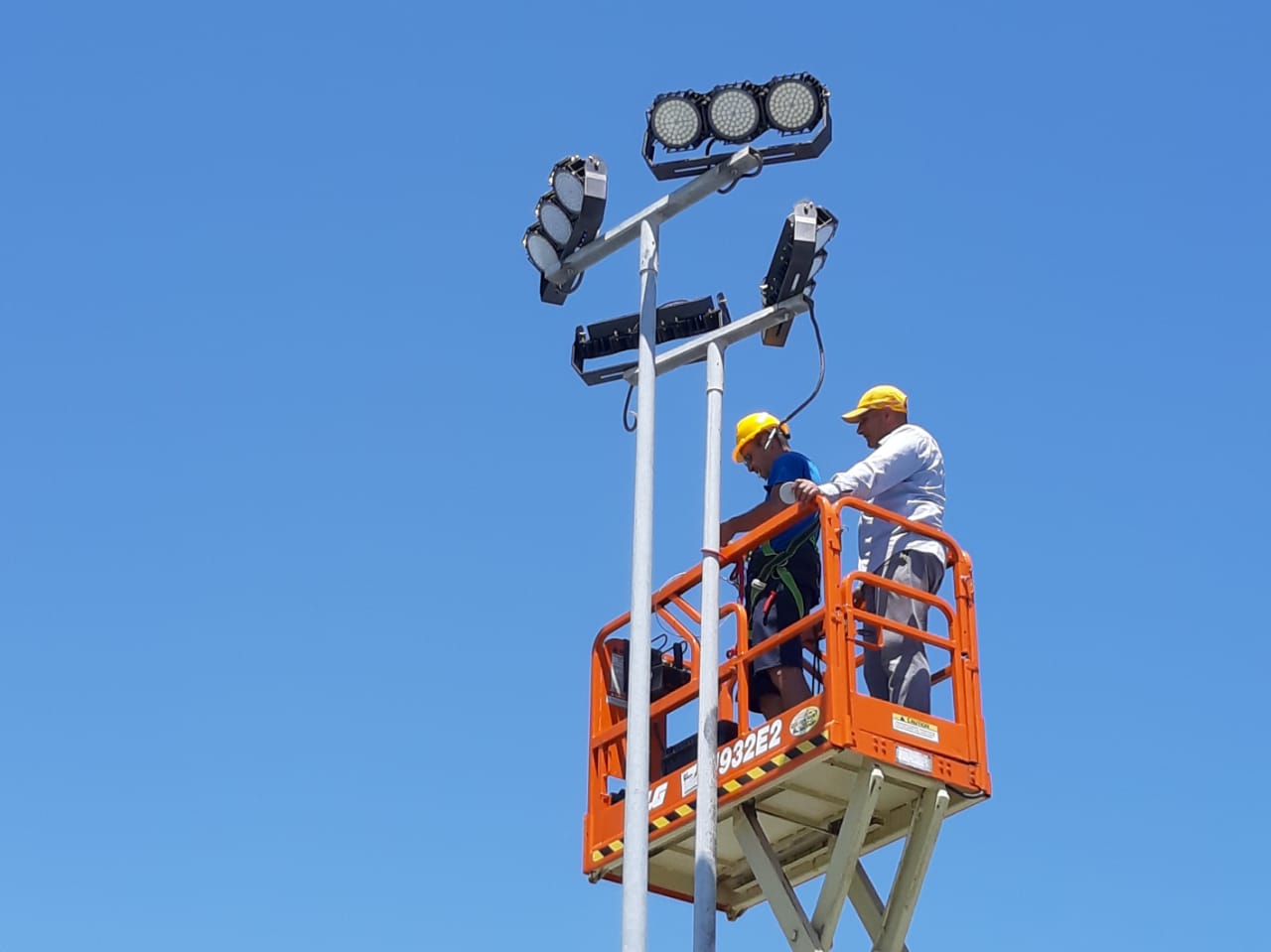 Football Court Lighting Solution in Malaysia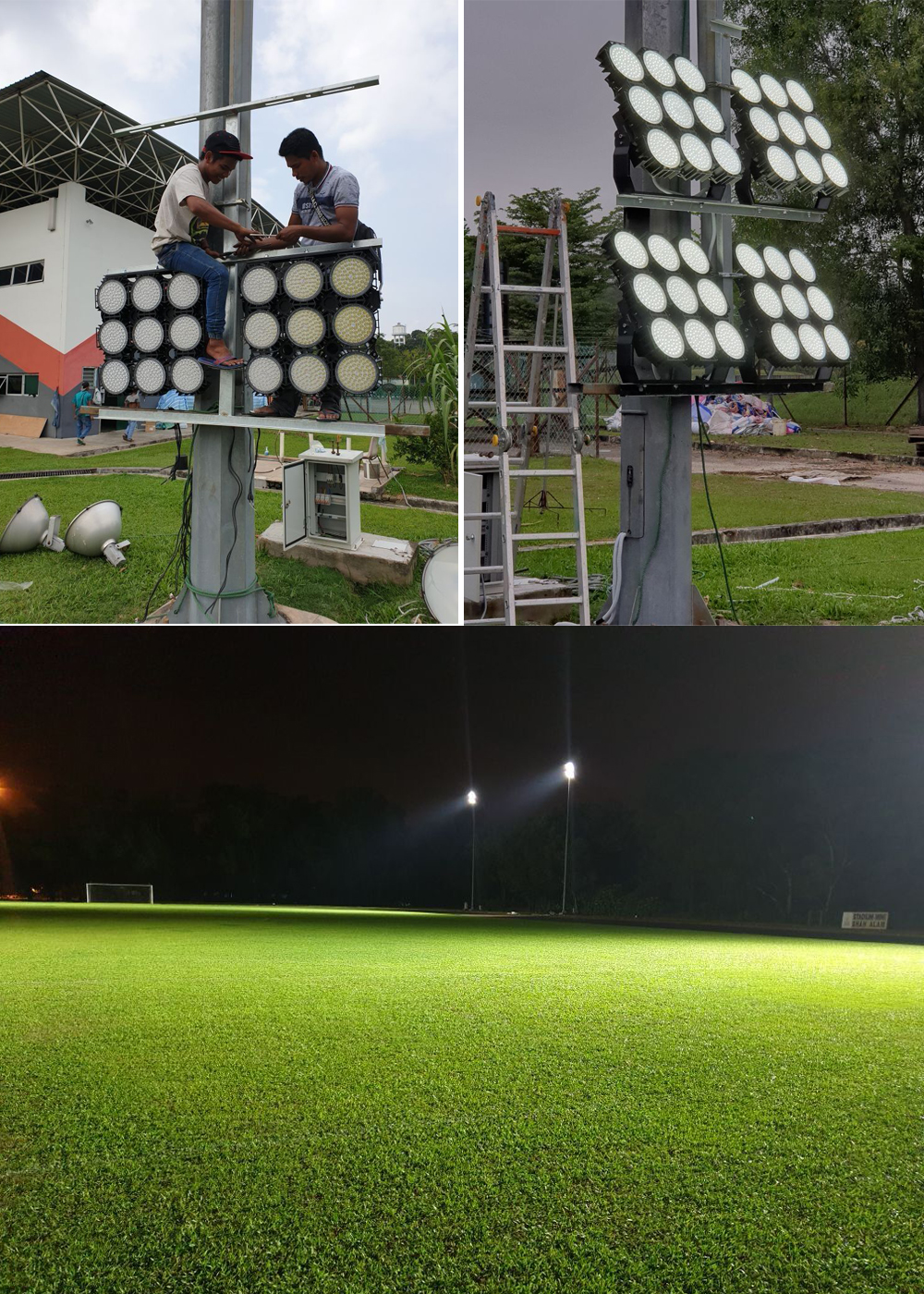 Meet more application requirements
---
-Football field, stadium, football field, baseball field, golf course, basketball court, swimming pool, hockey field, volleyball court and racing field
-Entertainment areas, parks and tennis courts
-Large parking lot and airport, seaport terminal
-High mast applications on highways and bridges
-Lighting for oil refineries, drilling platforms, derricks, prisons, military camps and manufacturing sites