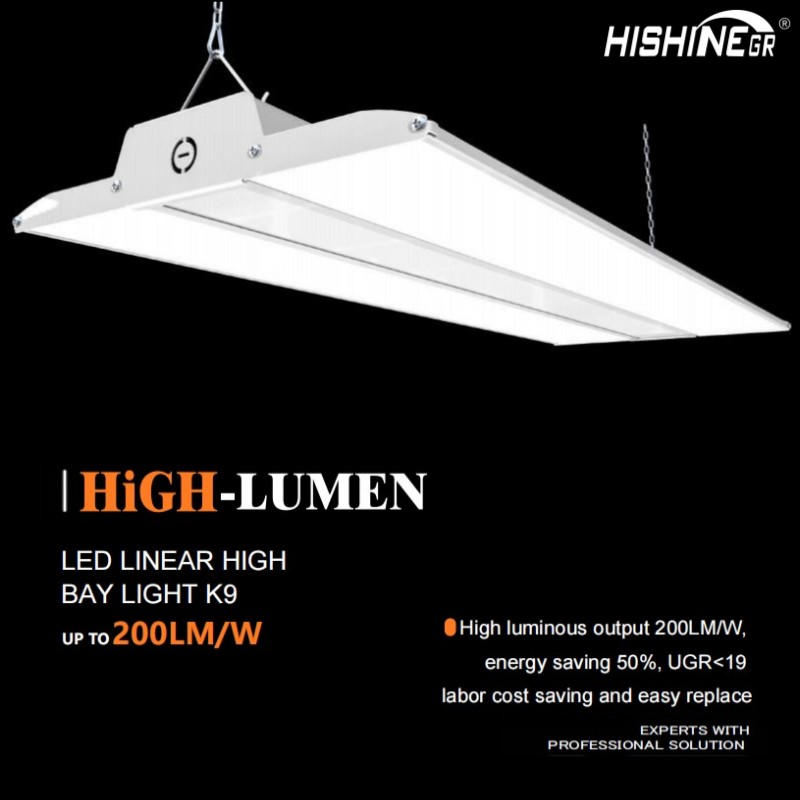 K9 No Glare Linear High Bay Light Features
---
1.Housing material: die-casting aluminum
2.High luminous output 200LM/W, energy saving 50%
3.Translucent lens standard to minimize glare
4.L70 lumen maintenance of 100,000 hours
5.Intelligent control: infrared remote control, Zigbee, Bluetooth Mesh, high-altitude microwave sensor, infrared light sensor, Zigbee version supports heat map, supports light decay compensation
6.Multiple Mounting Options: Suspended mounted
K9 No Glare Linear High Bay Light Parameters
Wattage
Lumen Output
LED Chip
Efficacy
LED Quantity
Beam Angle
CCT&CRI
Voltage

40W

8000lm
Lumileds 2835
200LM/W
150pcs
120º

3000K-6500K;>80

AC100-277V;347V/480V;50/60HZ

80W

16000lm
150pcs

100W

20000lm
300pcs

150W

30000lm
300pcs

200W

40000lm
450pcs

250W

50000lm
450pcs

300W

60000lm
600pcs
Technical Specifications
Part Number
Dimensions(mm)
N.G(KG)
G.W(KG)
Package Size(mm)
Warranty
Lifespan
Each Package(unit)
HS-HB40W-K9
300L*342W*55H
1.9
4.7
345L*387W*228H
3 Years
>50000hrs
2pcs
HS-HB80W-K9
HS-HB100W-K9
600L*342W*55H
3
7.7
645L*387W*228H
HS-HB150W-K9
HS-HB200W-K9
900L*342W*55H
4.3
11.5
945L*387W*228H
HS-HB250W-K9
HS-HB300W-K9
1200L*342W*55H
5.5
15.5
1245L*387W*228H
Intelligent Controller of K9 No Glare Linear High Bay Light
---

K9 No Glare Linear High Bay Light Dimension
---

Actual Product
---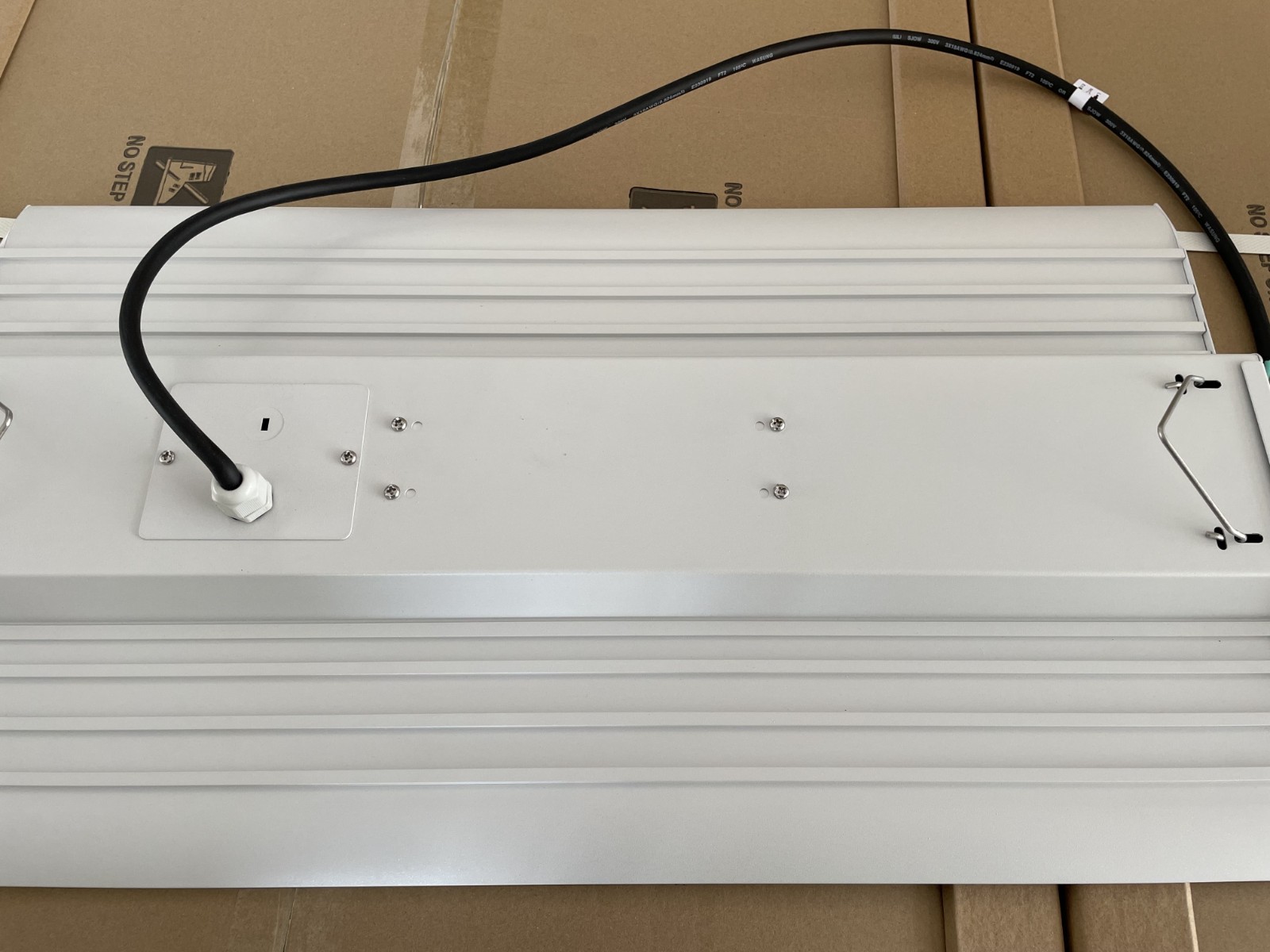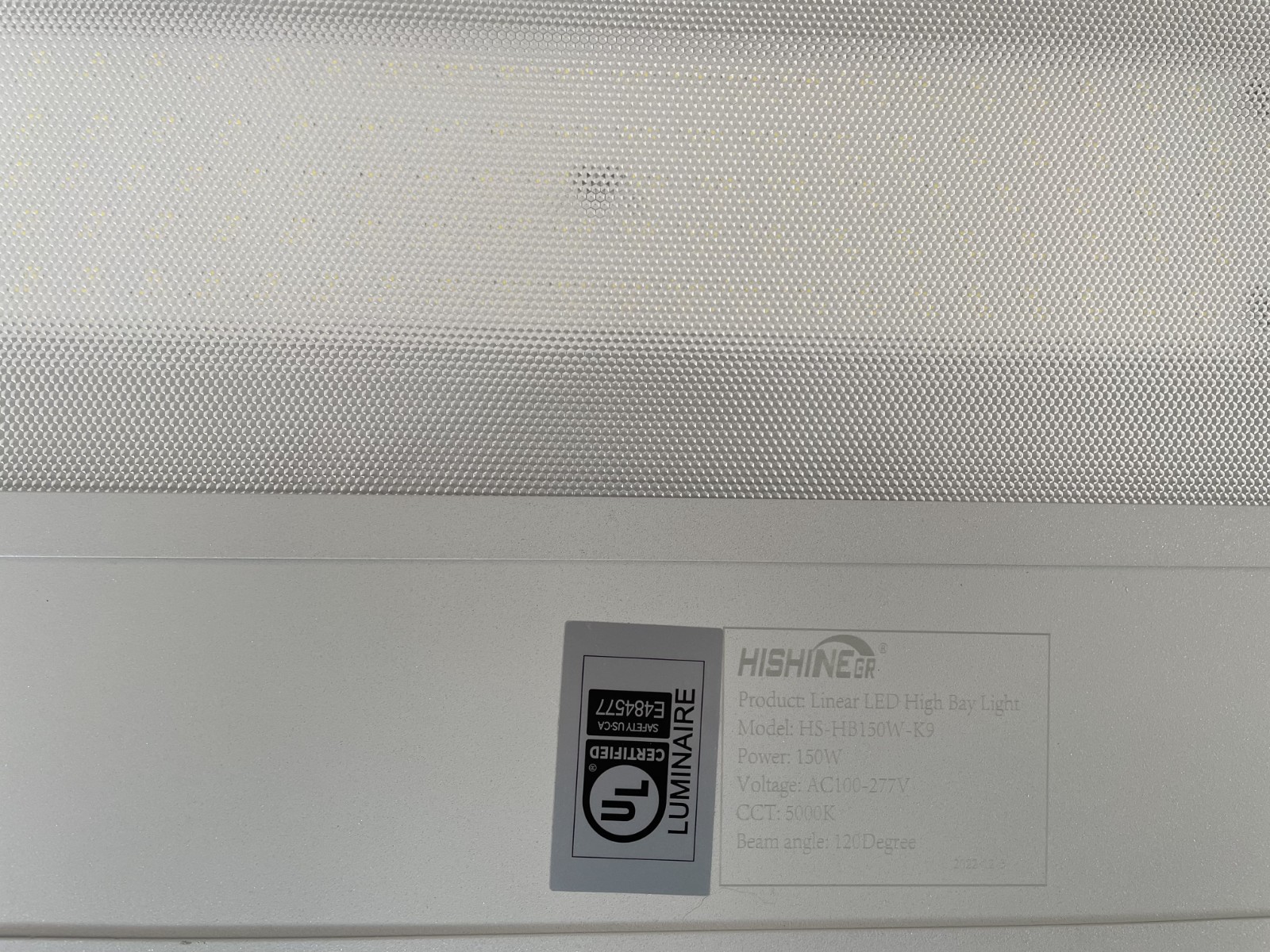 Aging Test

Outer Packing

K9 No Glare Linear High Bay Light Application
---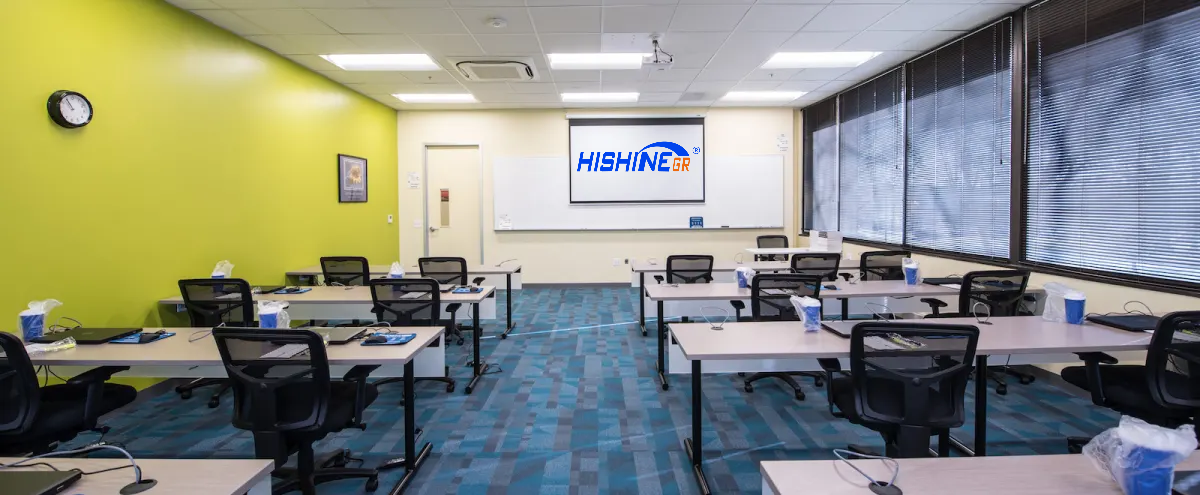 ⊿ K9 LED linear high bay light is used in warehouses, factory workshops, stations, exhibition halls, large shopping malls, supermarkets, or other high hall lighting fields.
⊿ Warehouse: High bay light K9 with a wide lighting range and uniform light, making the goods visible and convenient for workers to store and pick up goods.
⊿ Workshop: Provide 200LM/W high-brightness lighting so that workers can see the work area, improving work efficiency and safety.
⊿ Indoor Sporting Hall: High bay lights can be installed in stadiums to provide strong lighting so that athletes and spectators can see the game, and improve the experience of the game and the effect of watching the game.
⊿ Supermarket: Provide high luminous efficacy that creates a bright environment, improving the shopping experience and sales.
⊿ Prison Courtyards: Powerful illumination allows drivers and security personnel to see, even in low-light conditions, reducing the risk of accidents and enhancing security.