HI-ROBOT LED flood illuminator adopts advanced LED lighting technology. The HI-ROBOT series is an ideal solution for professional outdoor sports lighting design, high school, university, and semi-professional outdoor sports venues with the best budget lighting. HI-ROBOT LED flood light can provide versatility for any outdoor sports such as football, football, baseball, hockey and hockey. It can provide maintenance-free professional sports lighting and has an amazing return on investment.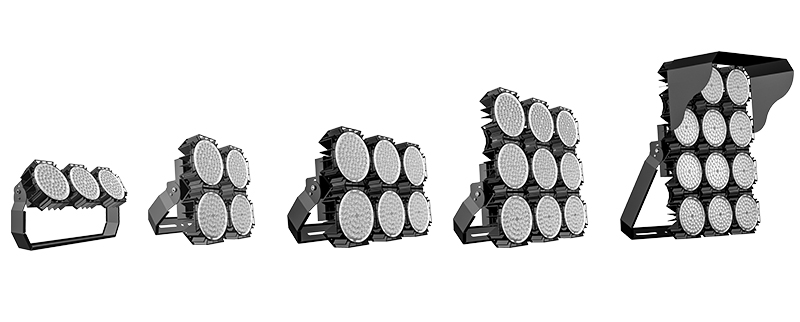 HI-ROBOT LED flood lighting Specifications
Part Number

HS-HM320W-A

HS-HM480W-A

HS-HM720W-A

HS-HM960W-A

HS-HM1300W-A

Wattage

320W

480W

720W

960W

1300W

Lumen Output

51200lm

76800lm

115200lm

153600lm

208000lm

LED Quantity

180pcs

240pcs

360pcs

540pcs

720pcs

Size(MM)

L690*W230*H75

L460*W460*H75

L690*W460*H75

L690*W690*H75

L920*W690*H75

LED Chip

Lumileds 5050

Luminous Efficacy

160LM/W

CCT

3000K-6500K

CRI

≥70Ra, or ≥90Ra

Beam Angle

20°/30°/45°/60X100°

IP Rating

IP67

SPD

20kV SPD standard (40kV optional)

Working Temperature

-30℃ to +55℃

Input Voltage

AC100-277V/347V/480V, 50/60Hz, >0.92

Warranty

7 years

Lifespan

>100,000 Hrs (L70 @ 25°C)

Material

Die-casting Aluminum housing+PC lens

Certificates

UL/CB/CE/ROHS/SAA/SASO/IK10
Advantages:
-Modular design
-320W/480W/720W/960W/1300W, 160 LM/W
-UL / DLC/CB/SASO/RoHs/CE/SAA/IK10 approved
-20°, 30°, 45°, & 60x100° beam angle
-AC100-277 or AC240-480 Voltage
-5000K CCT (4000 & 6000K optional)
-Drag coefficient: 12 windage
-Custom bracket optional
-1-10v dimming, intelligent dimming (light control, optional wireless control)
-Intelligent control system
-Wind Test Certified & 20KV Surge Protection.
-Power Factor .95, IP Rating: IP66
-Equipped with a 6FT Power Cord (12FT Power Cord Optional)
Lighting possibilities
Optimize operation
-Energy-saving LED lighting reduces costs
-Obtain a new source of income and be able to host different types of events in one stadium
-Install a flexible multifunctional lighting system with network functions and remote device monitoring
Improve the atmosphere
-Use flicker-free lighting technology to meet the requirements of slow-motion playback during the broadcast
-Get an excellent color, temperature, and light uniformity to help athletes see everything on the court
-Combine lighting, entertainment, and sound to bring fans a truly immersive experience
Enhanced security
-Improve the safety and traffic of the aisles through high-quality lighting in and around the stadium
-Improved navigation functions to make it easier to reach the stands, restaurants, shops, and stadium exits
-Improve the reputation of the stadium by improving the safety and comfort of fans, athletes, and staff
Meet more application requirements
-Football field, stadium, football field, baseball field, golf course, basketball court, swimming pool, hockey field, volleyball court and racing field
-Entertainment areas, parks and tennis courts
-Large parking lot and airport, seaport terminal
-High mast applications on highways and bridges
-Lighting for oil refineries, drilling platforms, derricks, prisons, military camps and manufacturing sites
Hishine Group Limited is a leading manufacturer in the industry of LED lights, specializing in the production of high-quality solar LED lights, including solar street lights, lawn lights, and floodlights.